Thanksgiving day started out with a 4 mile race around Dublin – Glacier Ridge Metro Park to be more specific.  The morning temperature was 37 degrees, but according to local meteorologists, the sun was supposed to come out shortly after the race began.  That never happened and there was a chilling wind, so I couldn't wait to get moving!  I even stayed in my car as long as I possibly could with the heat cranked up to get as warm as possible before heading out.
I set out to do this race with no time or pace goals.  I had never run a 4 mile race before, so any finish time would be a PR (personal best).  I started out running with Sarah and one of our 10:30 group pace coaches & friend, Susanne, for the 4 miles.  We had a blast just chatting it up!  Sarah took off to chase a fast finish and another MIT 10:30 group woman joined us after the first mile for the run & conversation.  It was so nice not to think about anything and just have a good time.   This was probably one of the most fun races I have run, most likely because there was no pressure. 
Sarah, Susanne & me before the race "in the people" trying to stay warm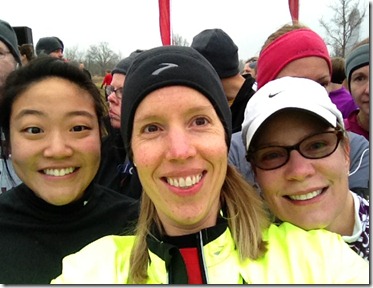 Before I knew it the finish line was just ahead & I picked up the pace & finished strong.  Got my medal and free bottle of wine & posed for pictures.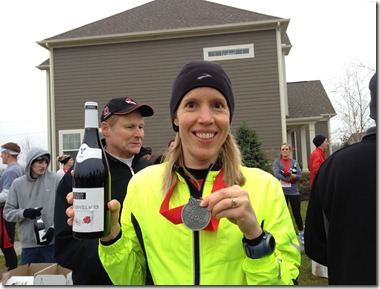 I ended up finished 1383 out of 3242 finishers with a finish time of 38:28 and a pace of 9:37/mile.  Best part is that I wasn't sore the next day so I was able to walk around shopping for 6+ hours.  Another great race put together by M3S Sports!
---
My mom, Joe and Aaron had already begun to prepare our Thanksgiving feast by the time I arrived home.  Everyone pitched in and we had a fantastic gluten-free meal.  13.1 pound free range, organic turkey.  I love that it was 13.1 pounds (half marathon bird)!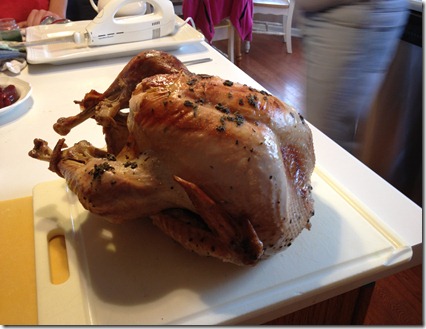 My plate with some of the best mashed sweet potatoes EVER!  Aaron mashed with butter, milk, sour cream & honey – heaven!!!  I noticed after I took this picture that I forgot my veggies and went back to grab them.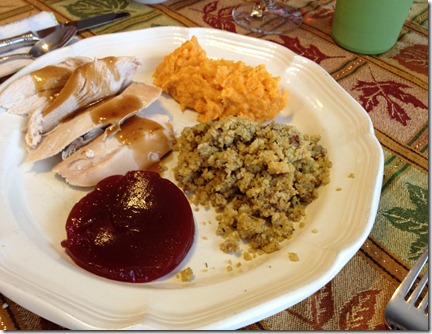 Hope that you all had a great Thanksgiving weekend, too!! 
Kim