Where did the holiday weekend go?  I swear it seems like it was just Monday.  I want a do-over.  Last few days of November will be rainy here, but I'll take that over snow.  We may see the first few flakes later in the week.  Not bad, considering I think we saw them in October last year. 
Have you started to decorate for the holidays yet?  I just didn't have it in me to get the tree up this weekend.  I hope to get it up this weekend, or I may not have a place to live.  LOL!  Everyone in the house (but me) seems disappointed that it isn't up yet. 
Sunday – Leftovers (I think we are done now)
Monday – Grilled chicken stir fry with roasted veggies & quinoa and salad
Tuesday – Soft tacos, black beans, corn & salad
Wednesday – Burgers, sweet potato puffs, green beans & salad
Thursday – Baked Ziti, steamed broccoli & salad
Friday – MYOP on Udi's gluten-free crust
Saturday – Pei Wei take out
---
Guess it is time to start baking for the holidays.  I need a plan before I start.  I think I will ask the kids to each pick their favorite Christmas Cookie and then add one or two more of my own.  That way I am not going nuts and making 15 different kinds of cookies. 
---
Anyone taking advantage of Cyber Monday deals today?  Make sure to check out these gluten-free deals:
Katz is offering $1 off every product
Gluten Freely is offering an additional 20% off of already discounted prices. (Discount will be given at checkout.)
At least there will be none of this on Cyber Monday: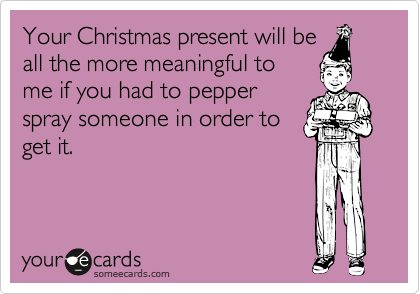 Crazy times out there on Friday!