Welcome to December!  The first few days of December were warmer than usual for us here in Ohio, but yesterday morning was quite frosty!  I don't mind the cold temps in the AM and the mid-day warm up – that is perfect!  I headed out for a run yesterday with my friend and MIT pace coach, Susanne.  As we were running through the park we came upon some wild turkeys!  It was the coolest thing to see.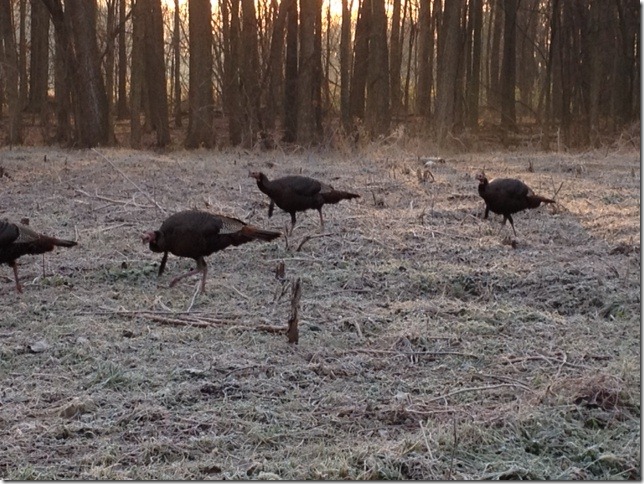 Looks like they escaped Thanksgiving, huh?  You can see the frost on the ground, can't you?
Today the Christmas tree & decorations are going up.  Crossing my fingers and praying that all of the lights work.  It never fails that I have to make a trip to the store for more lights.  I just hope that if that does happen again this year, it is before the lights go on the tree, not after they go up.  I have been, there done that more than once it is so frustrating and defeating to have to undo all of the work you have just done. 
---
Menu plan
Sunday – Rotisserie chicken, garlic mashed potatoes, steamed broccoli & salad
Monday – Baked Ziti, sauteed green beans, Chebe focaccia and salad
Tuesday – Easy enchilada bake, corn and salad
Wednesday – Herb crust roast pork tenderloin, baked sweet potatoes & salad
Thursday – leftovers
Friday – MYOP with Udi's gluten-free crust and salad
Saturday –Chipotle
Baking
Getting my Christmas cookie baking on this coming week!  I can't wait!
---
Week in Review
Meijer adds gluten-free store brand cereal
Join Alice Bast for a webinar on December 15, 2011
---
Have a fantastic week!
Have you decorated for the holidays yet?
Kim