You have all probably seen the movie "When Harry Met Sally", right?  So you are probably familiar with the restaurant scene where Sally places an order very specifically. 
This is how Aaron says I order my food.  I know you may be thinking that it is necessary to order specifically, because I have to eat gluten-free, but I was like that long before I started the diet.  Hey, at least I am honest, right?  Now, how many of you thought I put the other restaurant scene above?  Get your mind out of the gutter!  This blog is rated PG.  LOL! 
I set out to make a Cobb Salad the other night because I lacked the energy to make anything complicated.  I knew I had deli meat, avocado & cheese, but I found I was missing a few things.  The first thing that came to my head was that here I was messing with the traditional dish again…LOL!  My salad was lacking the following according to the traditional recipe:
Kim's Cobb-Like Salad
Mixed greens – 3-4 large handfuls
1/2 avocado
2 oz. deli turkey
1 oz. cheddar cheese
1 Roma tomato
1/4 salad cucumber
1 small radish
1/2 TBSP to 1 TBSP pine nuts
10 red grapes, halved
1 TBSP Marzetti Simply Dressed Pomegranate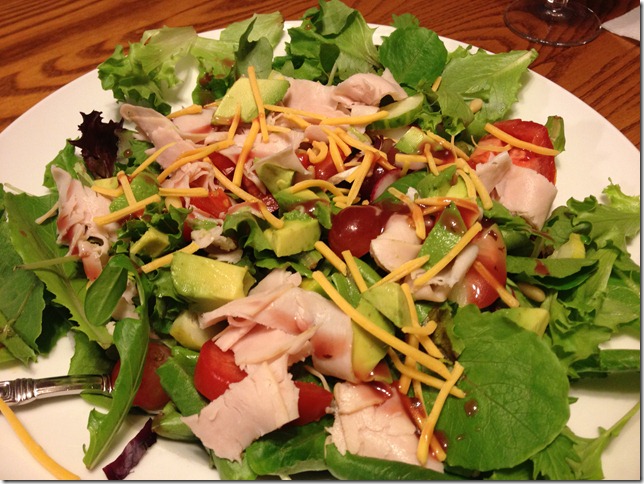 I ate this salad along side some baked steak fries.  I took a huge baked potato and cut into eighths.  I tossed the pieces with a little EVOO, parmesan, sea salt & pepper for an extra carby treat before my Saturday long run. 
Okay, confession time.  How do you order your food?  Obviously gluten-free (for most), but toppings on the side?  Other special requests?
Kim