'Tis the season for Holiday giveaways!  Green Valley Organics makes a lactose-free line of yogurts, Kefir and sour cream.  I normally take Lactaid with my dairy products, but was excited to try these lactose free products.  You can read my review of the yogurt here.  The Kefir has quickly become one of my favorites – the blueberry pom acai – and I was thankful to have it during my 14-day course of antibiotics last month.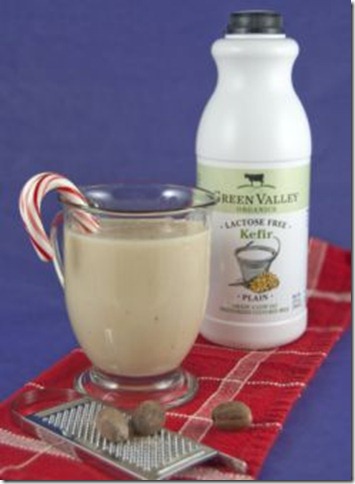 With the Holidays upon us, those with special dietary needs often feel left out.  Many traditional Holiday recipes contain gluten and/or lactose, which can complicate things.  Nothing is impossible, though.  Green Valley has a recipe for Lactose-Free Eggnog – check it out!
LACTOSE-FREE HOLIDAY EGGNOG

Serves 2

Eggnog is a rich holiday treat. This delicious recipe is a great variation on the classic recipe made with creamy, Lactose Free Kefir. Safe for anyone to drink because the eggs are cooked, whip up a batch and make someone's day this holiday!

Ingredients:

1 1/2 cups Green Valley Organics Lactose Free Plain Kefir
1/3 cup sugar
1 tsp Bourbon Vanilla
3 eggs

Directions:

Whip eggs. Mix the kefir, sugar, vanilla and eggs in a heavy sauce pan over medium-low heat. Cook for about 15 minutes, stirring often, until the mixture coats a metal spoon. Pour mixture into a glass bowl. Set the bowl in a larger bowl filled with ice. Put in refrigerator for 24 hours.

Put eggnog in festive glasses (of course!). Garnish with cinnamon or a bit more nutmeg on top and a candy cane.
Green Valley has offered to give one lucky reader a prize package that will contain:
Eco-friendly insulated cooler tote
Peace Love & Dairy t-shirt
Entire Green Valley Organics line of lactose free yogurts, kefirs and sour cream (in coupon form or product samples if the winner(s) don't live near a store carrying the products
How does that sound for a Holiday giveaway?  To see if Green Valley Organic is sold in a store near you, click here.   Follow the directions below to enter.
****Products reviewed & prizes were provided free of charge by Green Valley Organics.  The opinions shared here were not influenced by anyone or anything.