I like bubbles in my drinks.  This is probably most of the reason that I drank diet soda for so many years.  Bubbles.  I now try to stay away from soda (diet or regular) and if I feel the need to drink bubbles, I choose La Croix or seltzer in a restaurant with a slice of lime.  If I am looking to make my glass of white wine go a little further, I will add half a glass of seltzer and half wine = wine spritzer!  It is really all about the bubbles, much like the song:
Tiny bubbles

In the wine

Make me feel happy

Ah, they make me feel fine
Moving along now.  Ferrarelle Platinum is Italy's #1 sparkling mineral water.  I was very excited to  receive a bottle to sample & review here.  More about Ferrarelle Platinum:
The natural bubbles in Ferrarelle are finer and more numerous than in water manufactured with added CO2, thus giving Ferrarelle more delicacy on the plate and a unique taste. By a fluke of geology, Ferrarelle is naturally effervescent, coming out of the source already sparkling. Most other brands of sparkling waters come out of the ground still (or flat) and are then artificially carbonated like soda. This makes their carbonation very strong and harsh while Ferrarelle has a much softer texture which complements the best spirits and cuisine without compromising them.

The Ferrarelle spring is located near the extinct Roccamonfina volcano in the Campagnia region, where the rainwater starts a 9.3 mile journey during which time it is purified and enriched with precious healthy minerals. Subject to very strict controls, Ferrarelle's mineral water is tested 615 times per day and its quality is guaranteed by major international certifications including the ISF. Each of its bubbles contains all the natural richness of precious minerals such as:

– Calcium: Ferrarelle contains 365 mg per liter. In Italy, Ferrarelle is often recommended to lactose-intolerant people for their daily calcium requirement.
– Bicarbonate: Helps to facilitate digestion.
– Silica: Essential to delay the aging process of tissue.
– Potassium: Helps to reinforce the muscular system.

A sleek Ferrarelle Platinum bottle will impress any host or hostess and is the perfect accessory for chic holiday gatherings. Also great for those who can't imbibe, Ferrarelle Platinum is a trendy Italian offering for those who appreciate the best bubbles without the alcohol.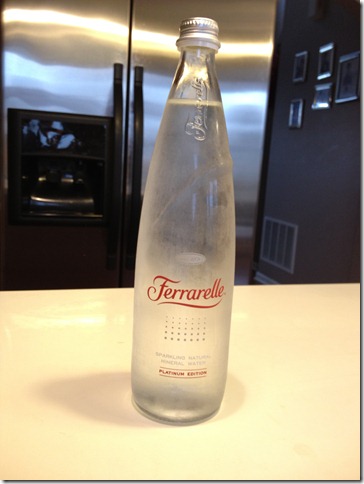 I love the fizz sound when I first opened the bottle!  I poured a glass and took my first sip – AH….the bubbles!!!  The best part about these bubbles is that they are natural and are not added with CO2 like other sparkling waters.  There seemed to be a lot more of them, too.  Next up was trying as part of my wine spritzer.  I poured half a glass of Moscato and then topped it off with Ferrarelle Plantinum.  What a great way to enjoy a wine spritzer! 
Ferrarelle Platinum can be purchased online, but isn't cheap at $7.50 for 25 fl. oz.  I am not sure that I would spend that amount of money on sparkling mineral water, even though I really liked it.  If I could find it locally, maybe for special occasions like birthdays or New Year's Eve. 
**The samples reviewed in this blog were sent to me free of charge for review purposes.  The opinions stated here are mine and have not been influenced by anyone or anything.