'Tis the season, right?  Rudi's is celebrating on their Facebook page with the 12 Day of Gluten-Free Christmas goodness.  They have also been very busy cooking up awesome recipes for the holidays, including this one for Gluten-Free French Toast: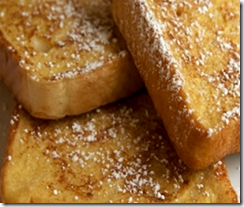 Rudilicious French Toast
Ingredients
8 slices Rudi's gluten-free multigrain bread
4 eggs
1/2 to 3/4 cup of milk (may sub non-dairy)
2-3 tsp. cinnamon
2-3 tsp. allspice
2-3 tsp. ginger
Gingerbread men cookies, strawberries, maple syrup (for garnish)
Recipe
1. Combine Eggs, milk, cinnamon, allspice and powdered ginger in a shallow bowl and whisk until well blended
2. Dip slices of bread into shallow bowl until completely saturated
3. Heat oil in a skillet and fry bread on both sides until well browned
4. Sprinkle with fun toppings such as gingerbread men, strawberries, maple syrup and powdered sugar!
---
Who wants to win a Rudi's Swag Bag? Here is the list of goodies:
Swag Bag:
-Bag
-tshirt
-Coupon
-recipe
-post it notes
-Sandwich box (forgot to put it in the picture)
-bread clip