January 1, 2012 marked my first race of the new year.  Nothing like getting started right off the bat, right?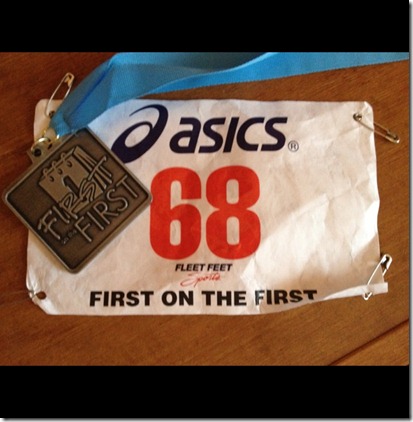 The race didn't start until 11 AM, which is perfect for the day after New Year's Eve.  I made sure to hit the hay early, but did partake in my share of wine before I did so. I arrived at the race about an hour early so that I could get a parking spot.  Walking to get to the starting line isn't bad but walking back to your car all sweaty & cold is not fun.  This race had the luxury of a warm building to hang out in before & after the race = BONUS, in my opinion.  Not only that, but a huge New Year's Day feast was served – black eyed peas, pork and all of the fixings!  There was also a large variety of fresh fruit from Green Bean Delivery so there were gluten-free options available.
Since I arrived early, I was able to meet up with some friends from Run DMC – a group of runners that I met on Daily Mile that all live in the Columbus area.  Here are some of us before the race (from L to R: Jessica, Allen, Deb, Me, Brandie, Don & Greg):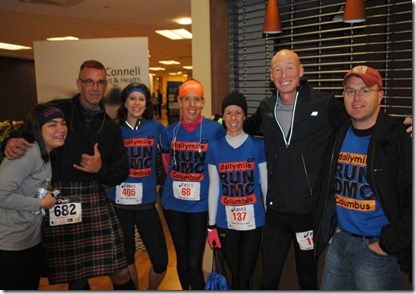 (picture courtesy of M3SSports)
Brandie (a fellow MIT 10:30 pace group runner) and me before we realized we were overdressed: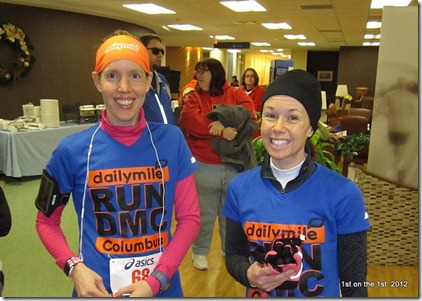 Hadn't planned on running this for a PR (personal record), but it felt right, so I went with it. I set out to run at a 9 minute pace, but found myself comfortably settling into an 8:30 pace. After my second mile at 8:30, I did some quick calculations and discovered that I could PR this race if I kept this up and picked it up a little.  The sun was just starting to come out in the pictures below.  Definitely could have used my sunglasses at this point.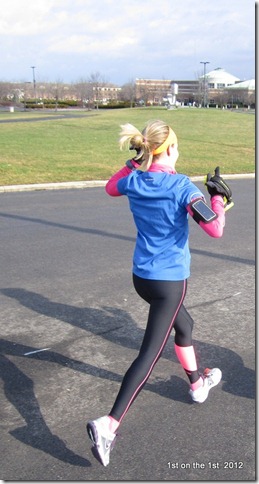 (photos courtesy of Don Miller)
Little did I know what was coming! Things got tough up a hill towards the end, but I hung in there and PR'd by 7 seconds: 25.33. I'll take that! Apparently 3 glasses of wine the night before and no speed training is the way to a new PR. Came in 7th in my age group (35-39) and 120th out of 755 total runners.
Splits
1 – 8:30
2 – 8:30
3 -8:11
This race was extremely hard to dress for.  Temps were in the mid-40s, but the wind was strong & gusty.  While I wanted to wear shorts, the wind was making it pretty chilly out.  It was cloudy at the start of the race and the sun came out after the 2nd mile, which made the 3rd mile much harder.  I was definitely overdressed, as I felt like I wanted to take off all of my clothes while running, which we all know would not be good.  Rain would have been glorious at this point!  Turns out it did rain a short time after I finished and went inside.
I will definitely be running this race again in the future!  It was wonderfully organized & operated, especially for the number of people running.
Kim