Have you ever had one of those meals where you just threw something together and it ended up being spectacular?  I had one of these last week.  I was trying to finish up a bunch of half-completed tasks and needed to feed myself & Hannah.  I had picked up some grass fed beef from Whole Foods earlier in the day, so I settled on burgers and baked steak fries. 
What was supposed to be simply a meal to "get the job done", turned out to be one of the best I had eaten in a long time.  The burger was a perfect medium-rare, the bun was toasted to perfection and the fries completed the dish.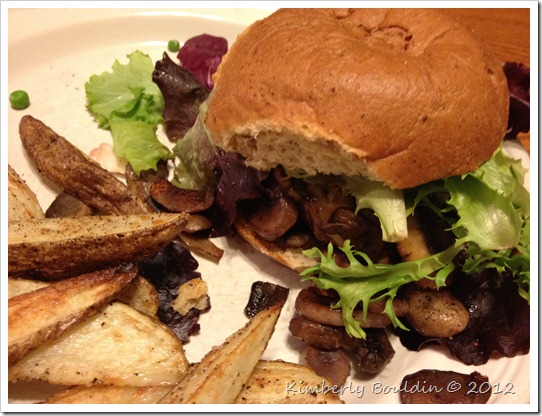 To make the burgers I seasoned the ground beef with sea salt & pepper and cooked in a frying pan over medium heat.  In a separate pan I sauteed some sliced mushrooms in a touch of olive oil and cabernet.  The burger was then sandwiched on an Udi's gluten-free whole grain bun with spring mix & ketchup. 
To make the fries I sliced a large baking potato and coated them with olive oil cooking spray.  Then I seasoned them with sea salt & pepper and baked at 400 – 425 for roughly 25 minutes, flipping half way through.  A little crispy on the outside and potato-y on the inside. 
Simple.  Delicious.  Gluten-free. 
Kim