A few weeks back we were the lucky recipients of samples of products from the Toosie's gluten-free line.  You can view my thoughts about the blueberry muffins over on Celiac-Disease.com.  The weekends usually mean that Jon is asking for one of us to make him pancakes or waffles.  Lately it has been waffles.  Aaron is the go-to waffle iron guru, as I am usually stuffing my face after my long run on Saturday mornings.  I asked him to use the Toosie's Pancake & Waffle Mix last week so we could give it a try. 
(source)
The ingredients in the mix are:
Whole grain brown rice flour, potato starch, tapioca starch, dry milk, pure cane sugar, baking powder (sodium pyrophospate, bicarbonate soda, cornstarch, monocalcium phosphate), xanthan gum, natural vanilla powder (natural flavor, sugar, cornstarch), salt.
The recipe is the same for the pancakes or waffles, but the waffle batter should be a touch thicker than the pancake batter, so cutting back on the liquid just a touch (at least at first) is probably best way to start.  To 1 cup of mix Aaron added 3/4 cup of milk, 1 egg and 1 TBSP oil.  The proportions above yielded one large Belgian waffle and a half of another.  The whole one was demolished by one hungry teen boy; the half was left over for the taking.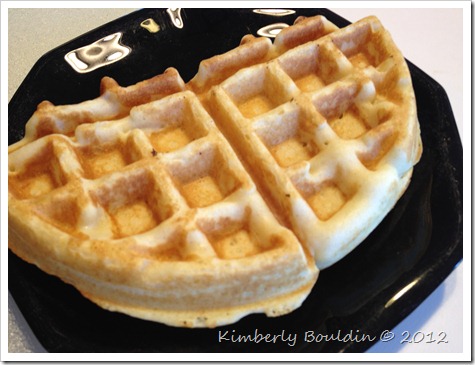 These waffles were so good and had such a great texture that I could have eaten them without any toppings.  Jon of course smothered his in chocolate chips & syrup because that is what teen boys do, right?  He oohed and aahed his way through, which is his way of putting his stamp of approval on them. 
Toosie's goes to great lengths to ensure that their products are gluten-free.  In addition to sourcing only naturally gluten-free ingredients, they also test each batch they make with the Gluten ELISA assay test.  Toosie's products can be purchased right from their website. 
Make sure to check back for reviews on some of the other products we sampled from Toosie's.  I hope to see their products become available in stores across the country! 
Kim
***The products reviewed in this blog were sent to us free of charge.  The opinions stated here are mine and have not been influenced by anyone or anything.