BRR!  Thank goodness it is supposed to warm up this week because these single-digit temperatures are for the birds!  Well, not really, because most of them are smart enough to head south, which seems like a good idea to me right about now.  On the other hand, if we have to deal with a day or 2 of temperatures that are below freezing to get the other 70-80% above freezing, well, I think I can handle that.  Not that we can do anything about it, right?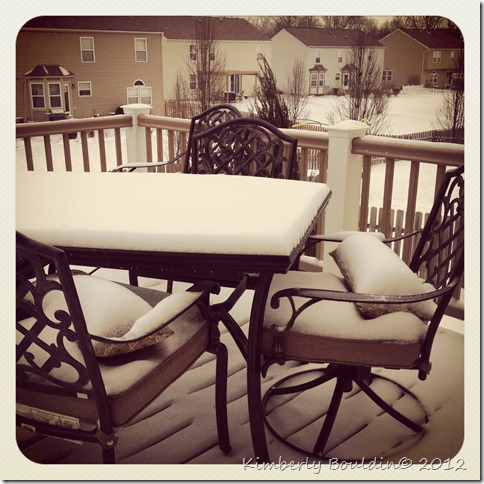 Confession:  Last week I didn't follow my menu plan at all.  I had good intentions, I really did.  Those intentions went out the window when my back strain flared up.  The muscle I pulled the week before had been improving nicely until I was a little lax with the Advil and tweaked it.  It seems that the Advil may not have been doing much for the pain, but was for the inflammation.  I have since switched to Naprosyn and am feeling much better.  Hoping this trend continues and I can get back on track this week with laundry, cooking, baking & such.
Sunday – Dinner out with family – Red Robin
Monday – Spaghetti with marinutta sauce, steamed broccoli and salad
Tuesday – Turkey tacos with black beans, corn & salad
Wednesday – Bourbon chicken, brown rice, green beans & salad
Thursday – Breakfast for dinner with fruit salad
Friday – Make your own pizza and salad
Saturday – Take out or leftovers
---
Week in Review
GFDF chocolate peanut butter pudding
Chick-fil-A adds grilled chicken nuggets
Birthday Celebration complete with gluten (response from Executive Chef in the comments)
---
Hope you all have a great week!  Stay warm!
Kim