Sometimes you don't.
Okay, now that I got that out of my system…  Just try and get that song out of your head – go ahead, I dare ya!
I had some very ripe bananas, one request for banana bread with chocolate chips and one for banana bread with walnuts.  The walnut dude didn't want chocolate chips and the chocolate chip dude didn't want walnuts (or so I thought).  What is a girl to do?  Well, I gave you a hint yesterday on my "Wordless Wednesday" post.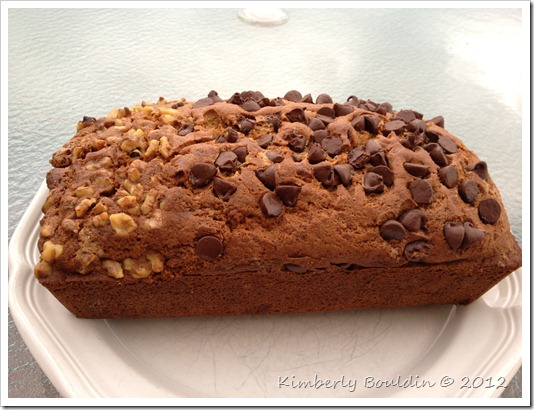 I had  a new gluten-free all purpose flour mix to try out, so I decide to use that as my flour.  The flour, made by Toosie's, contains a blend of gluten-free flours and xanthan gum, but no leavening agents.  I modified my Chocolate Chip Banana Bread recipe and got one of the best versions I have ever tried!
Banana Bread (picky style)
1 3/4 cups Toosie's gluten-free all purpose flour (or any gluten-free flour blend without leavening agents)
1 tsp. baking soda
1/2 tsp. salt
1/4 tsp. baking powder
5 TBSP butter
1/2 cup granulated sugar
1/2 cup light brown sugar
1 large egg
2 egg whites
1 1/2 cups mashed ripe bananas (about 3 medium)
1 tsp. vanilla extract
1/2 cup heavy cream
1/2 cup semisweet chocolate chips sprinkled on top (I thought these would sink, as they did another time.  Clearly, they didn't)
1/4 cup chopped walnuts
1. Preheat oven to 350 F. Coat 9×5 inch loaf pan with Pam, set aside
2. Combine flour, baking soda, salt, and baking powder in medium bowl; stir to mix well.
3. Place butter in large bowl; beat at medium speed until fluffy. Gradually beat in sugars; beat in egg
and egg whites. Reduce speed to low; beat in bananas. Beat in vanilla. Beat in flour mixture in 2
additions alternately with heavy cream.
4. Spoon batter into prepared pan; sprinkle with chocolate chips and walnuts.  Bake 55 to 60 minutes
or until wooden toothpick inserted in center comes out clean. Cool 10 minutes on wire rack; remove
from pan and cool completely on wire rack.
When Jon got home from school, he came into the kitchen and immediately wanted to dig into the bread.  He asked about the reason for the chocolate chip/walnut division and I explained that he wanted chocolate chips, but Aaron wanted walnuts and no chocolate chips.  Jon says "I love walnuts!", to which I replied "Since when?".  Sigh.  Whatever doesn't get hoovered by the boys will be mine.  Jon even had the guts to ask for Aaron's part of the bread.  No dice, honey.