Nuts.com has over 700 products that are certified gluten-free by the Gluten-Free Certification Organization.  How is that for a huge selection?  More about Nuts.com:
· If you thought your baking days were limited, never fear, it's time to fire up the oven and make some delectable dishes using flour made from coconut, almonds or chickpeas, just to name a few.  Or, find mixes for all your favorite baked goods: brownies and cookies and cakes, oh my!   You can also search for gluten-free recipes here.

· Start the morning off right with grains like rolled oats, quinoa or millet topped with sweet dried fruit or make pancakes or bread and top with nut butter.

· Don't forget to indulge your sweet tooth every now and then: old time candy brings back memories, or you can search by your favorite confectionary flavor.

· And for those days that are just plain nuts… of course, there are plenty of those to feed your craving too.
Nuts.com was formerly Nutsonline.com.  They can be found on Facebook and Twitter.  My favorite things to order from Nuts.com are walnuts (I may have a slight obsession) and amaranth.  I am just learning how to cook with amaranth by using with quinoa or other grains or alone as a hot breakfast cereal.  It makes a great base for fresh berries or cooked cinnamon apples & almond butter.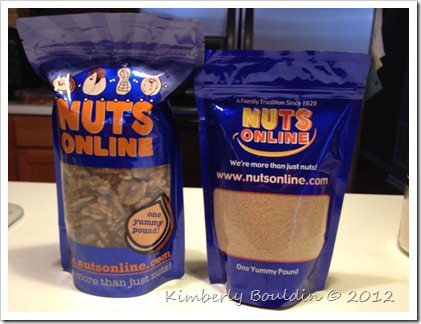 The products are always fresh & come in a bag with a zipper lock to help keep them that way.  I love the selections of gluten-free flours – they are reasonably priced with the all-purpose baking flour is just $2.99/pound!  Nuts.com has offered to give one lucky reader a free gluten-free product of their choice!  Please follow the directions below to enter to win!
****The products reviewed in this blog and being given away are being provided courtesy of Nuts.com.  The opinions stated here are mine and have not been influenced by anyone or anything.