I have been doing a lot of soul searching recently.  I have been thinking about what I will do when the kids are older and don't need me at home as much as they do now.  I used to be in property management and while I liked what I did, I want something a little more flexible, so I can be available if the kids need me.  Family first, right? 
I have blogging and writing for Celiac-Diease.com, Gluten Freely and the Examiner, but I am thinking about something in addition to those things.  I write because I feel like the things I write about are things that I need to share with you all.  If I can help just one person, I feel like what I have done is worth it. 
That line of thinking led me to ask myself what I like to do – what is my passion?  I like to run.  I like to exercise.  Fitness is my passion.  So, what better goal to pursue, than to be a personal trainer?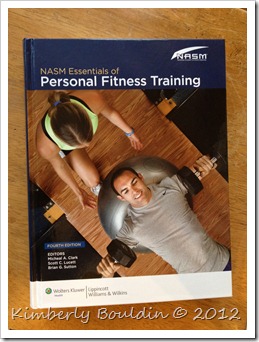 I enrolled last week with the NASM to get my CPT certification!  I have already started studying and hope to be certified by summer.  I haven't decided exactly how I am going to use this certification yet.  The possibilities are really endless. What I do know is this: I am passionate about my training and can't wait to help others feel the same way about their training. 
Wish me luck! 
Kim