I love rice.  I love all kinds of rice, but I was especially excited when I received these products from Nueva Cocina to review.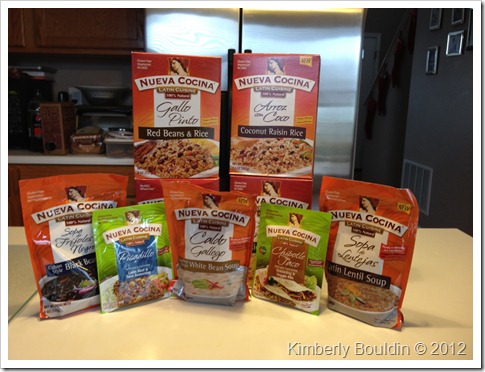 "Our delicious and versatile Nueva Cocina®Rice Mixes blend traditional Latin flavors with 100% natural ingredients. Nothing artificial, Gluten Free, no MSG or preservatives!"
I loved that the mixes were free of MSG and other preservatives.  The mixes were simple to prepare, taking less than 30 minutes per mix.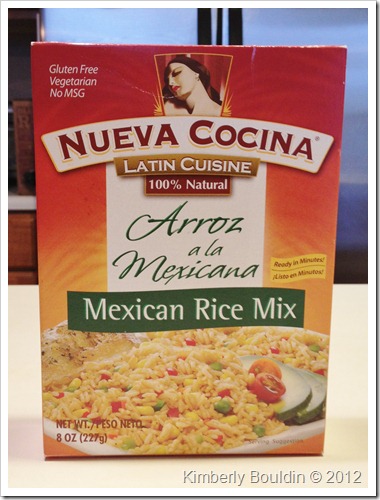 More about Nueva Cocina:
Welcome! Bienvenidos to Nueva Cocina®, the nation's first line of all-natural, authentic and contemporary, Latin rice dishes, seasonings and soups. We are two Latina entrepreneurs who met in college and shared a passion for Latin cuisine. Our idea for a product line of all natural, authentic and convenient Latin foods had been brewing in our minds for years. We were two Cuban born women, away for college, who missed the delicious home cooked Latin meals we grew up on. It wasn't until 2003 that we partnered to form Nueva Cocina® Foods – introducing the idea that exceptional tastes in Latin food can be easily achieved at home.

With food enthusiasts and modern-day families in mind, we created Nueva Cocina®. Each of our recipes start with a sofrito – a delicious combination of sautéed garlic, onion, peppers and spices which forms the savory foundation of most Latin foods.

Most of our products are also complete mixes; everything you need is in the box or pouch. Just add a little water, olive oil, and in unos minutos you have a complete meal. Nueva Cocina® makes it easy to enjoy the rich heritage, delicious tastes, aromas and colors of Latin foods at home. Nueva Cocina® is not only delicioso but all-natural; all our products contain no artificial ingredients or preservatives. Almost all our products are Gluten-Free and Vegetarian.

Nueva Cocina® is based in Miami, Florida, where culinary influences from all of Latin America thrive, serving as an inspiration for our recipes and new product ideas.

We invite you to try Nueva Cocina® Foods today. Shop for our products at your local supermarket and natural food stores, or shop online for all your favorite Latin dishes.

Buen Provecho,
Celeste De Armas & Corina Mascaro
I loved all of the rice mixes, but I think my favorite is the Mexican rice mix.  I added taco meat, corn, okra and avocado to my bowlful of rice and loved it so much I had it for my next 2 meals.  I love that these rice mixes don't taste overly salty.  I remember some of the rice mixes I have used in the past as being way too salty.  The flavors were well balanced & left me wanting more!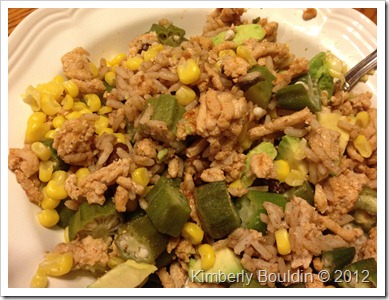 The coconut raisin rice is a unique combination of flavors that goes very well with shrimp!  I was the only one in my family who would eat this (raisin haters) – I was pleased that I didn't have to share!  The red beans & rice reminded me of my dad.  He used to eat red beans & rice a lot, mostly for carb loading before running.  This mix has wonderful flavor is great alone or with extra beans & veggies added in.
We still have to sample the soup mixes, which I hope to do this coming week. Nueva Cocina has a complete list of gluten-free foods here.  Many of the mixes are also vegetarian for those wishing to avoid meat.  The foods can be purchased directly from their website or from various grocery stores across the US.
*These products were sent to me free of charge for review purposes.  The opinions stated here are mine and have not been influenced by anyone or anything.