Last fall I bought a headlamp to light the way on my predawn neighborhood runs.  I did this partially so that I could avoid tripping or stepping on frogs (yes, I have encountered a few along my early summer morning runs) and also so I was easier to see.  My colder weather gear – jackets & pants – make me much easier to spot than my summer gear, which is often a sports bra & shorts when it is really hot & humid. 
I didn't realize how horrible my old headlamp was until I went on a run with a friend and she asked if it was working properly.  I said it was always like that and she suggested that I might need to look into replacing the battery (did nothing) or buying a new one.  It became crystal clear that I had a POS when I passed another runner on the trail that morning that almost blinded me with his headlamp.  Yep, I needed to find another headlamp.
I stopped by Fleet Feet and asked the owner, Tim, what he recommended.  He didn't have anything in stock, but highly recommended the Black Diamond Gizmo Headlamp & said he would order some.  More about the Gizmo:
Now with a slimmer, more powerful design, the Black Diamond Gizmo Headlamp is a ready-for-anything light that's useful in more places than you can imagine. From chores around camp to a mellow night hike, the Gizmo's 3 SinglePower LEDs provide up to 35 lumens of brightness as well as dimming and strobe modes. The headlamp also automatically powers off after 2 hours to avoid accidental battery drain.
I set out yesterday for my first run with Gizmo (love the name – reminds me of those little furry Gremilns that you can't feed after midnight or get wet).  I was shocked at how bright it was and how far in front of me I could see!  I could also see my Garmin much easier than I could with the old POS headlamp.  Checking my HR, time or distance with my old headlamp required exact head tilting & light beam placement on the watch face.  This was not a safe thing to do unless I was standing still.  Now I can easily glance down at my watch while running & it is lit up with the Gizmo.  I am very pleased with my purchase!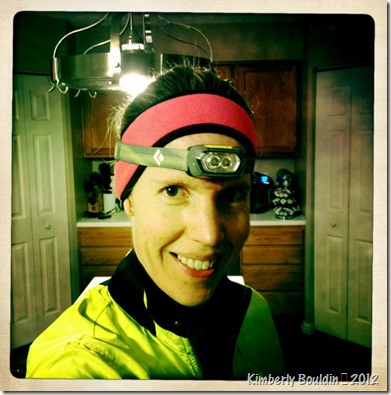 The Black Diamond Gizmo can be purchased online for $19.95 plus $5.00 shipping. If the Gizmo isn't right for you, there are many other headlamp options.
Do you run with a headlamp in the dark?