February 14, 2012 has arrived!  Today I plan to make a surprise dinner for Aaron & the kids – something they all love and I don't make nearly enough – lasagna.  I may whip up some brownies or cookies for dessert, but the kids have candy, so I am not sure that is necessary.  Aaron and I like to go out to celebrate, but we normally pick a day other than V-day to avoid the crazy busy restaurants.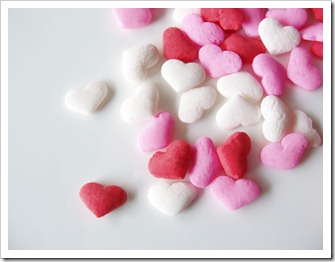 As far as candy & the gluten-free status of it, remember that holiday shaped/themed candy may contain gluten when it normally doesn't.  This is just a friendly reminder to be vigilant in label reading.  Some fun Valentine's Day ideas & candy lists can be found here. 
What do you plan on doing to celebrate Valentine's Day.  Do you go all out or is it just another "Hallmark Holiday"?
---
Make sure to check to see if you are one of the 3 lucky winners of the Jennie-O giveaway here.