The first time I tried quinoa a few years back, I wasn't too "keen" on it.  I can't remember where I purchased it, but I know that I cooked it like I do brown rice, only I didn't rinse it.  Back in those days I was just cooking my brown rice in water, so that is how I cooked the quinoa.  It was somewhat bitter, which led to a less than stellar first impression. 
Since then, I have begun to rinse the quinoa, whether the package says to or not.  I also cook my quinoa in lite coconut milk or some kind of broth as opposed to water.  My favorite has to be the lite coconut milk!  The coconut milk really gives the quinoa a rich, creamy texture and it can be paired with cooked cinnamon apples for breakfast or a savory stir-fry for dinner. 
Quinoa has some pretty impressive nutritional stats with 1 cup containing 222 calories, 4g fat, 5g fiber and 8g of protein.  Additionally, each serving has 15% of the RDA of iron.  This is important for me as I have been anemic in the past and don't do well with iron supplements.  The more iron I can get from my food, the better.  Another bonus?  Quinoa is naturally gluten-free and that makes me a happy camper. 
Trader Joe's is often my source for gluten-free pasta, brown rice, gluten-free oats and quinoa.  I can count on them for the lowest prices & quality products.  The newest addition to their line-up is organic tricolor quinoa!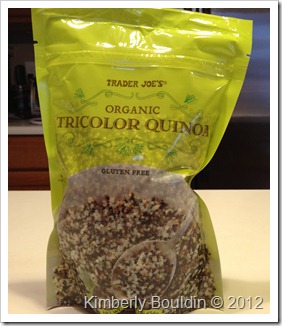 This tricolor quinoa is so pretty!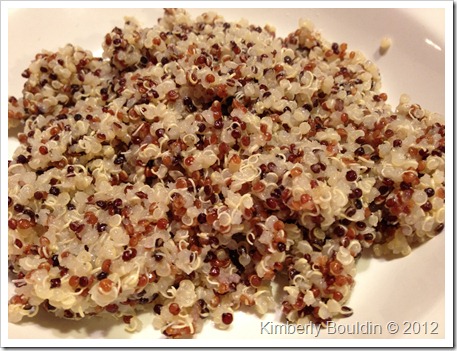 There is a recipe on the back for black bean burgers using this quinoa that I plan to make in the near future, but last night I thought it would make the perfect bed for my pulled pork and roasted asparagus & grape tomatoes.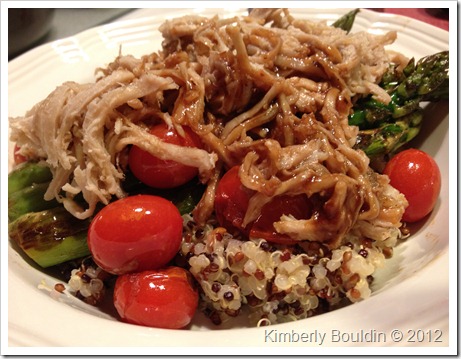 I used lite coconut milk for this batch so that I could have it with the BBQ pork for dinner last night & cooked cinnamon apples & almond butter this morning.  I can't even begin to explain how good this dinner was!!  If fact, I may have to have it again for dinner tonight if there are any leftovers!!
What is your favorite way to eat quinoa? 
---
Don't forget to enter the
Yoplait Lactose Free giveaway
!
Check to see if you won the Rudi's Gluten Free giveaway here.