I was fortunate to be selected to receive some new prototype cookies from Nana's to sample & provide feedback on.  I was excited, as it had been a long time since I had any of the cookies from Nana's.  The new cookies are similar in ingredients to the current gluten-free cookies with the exception of how they are sweetened.  The current cookies are being sweetened with 100% natural fruit juice, while the prototype cookies are being sweetened with organic cane juice.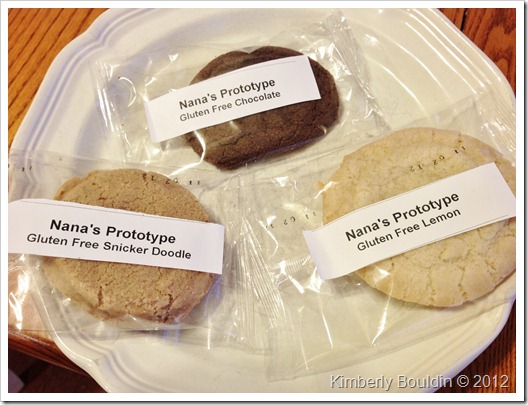 The prototype cookies come in 3 different varieties:
Lemon – Mostly crunchy with a decent texture.  This was Jon's favorite.

Snickerdoodle – Crunchy to hard – great flavor, but not my favorite texture.  Jon liked this one a lot and if there had not been a "lemon" flavor, this would have been his favorite.

Chocolate – Soft and chewy and hands down my favorite.  I have to be honest that I didn't share this cookie.  I was fortunate enough to be able to sample all 3 cookies before Jon got home & I hid this one from Jon.  (I guess we will see if he reads my blog,  huh?)
These cookies will only be available for a limited time, in limited quantities on the Nana's website.  The sample package is $6.95 for 6 large cookies.  Enter "gfproto" for free shipping on your order.  I hope that these make it to store shelves in the near future! Next time I will share with Jon.  Promise.
Nana's gluten-free products are baked in a certified gluten-free facility and are also free of dairy, corn, eggs, cholesterol and GMOs.
***The cookies reviewed in this blog post were sent to me free of charge for review purposes.