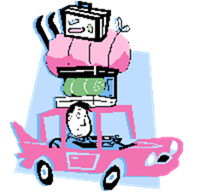 We travel a few times a year, each time being roughly 1-2 weeks.  I used to pack bags & bags of gluten-free replacement foods to bring with us.  I guess I was afraid of going hungry, though now that I look back, I know that I was probably overdoing it.   A mainstream grocery store has all the food you need, even without taking into account gluten-free replacement products.
meats
fresh produce
rice
potatoes
dairy products
eggs
spices/herbs
wine
I try to map out grocery stores & gluten-free friendly restaurants before we leave town.  Having this information with us makes me feel a lot more comfortable.  Over the years I have trimmed down to one bag and a cooler with food that we eat along the way.  Yes, there are usually plenty of options on the road, but I prefer to save time & money by eating home-packed lunches.
There are also many gluten-free apps available for both iPhone and Android phones with information on the location of restaurants that are gluten-free friendly.  Always make sure to follow up with the current staff to ensure the practices are still in place, as management can change from the time the app was published.
---
Don't forget to enter the giveaway to win a copy of Elizabeth Barbone's new cookbook: How to Cook Gluten-Free.