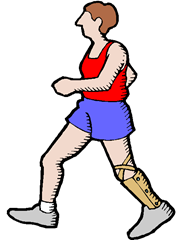 Topricin is a pain relief & healing cream.  It seems that I have some sort of ache & pain a few times a week, usually due to my increasing mileage and/or strength training.  These come with the territory, so when Topricin contacted me to see if I would be interested in sampling their products, I said "YES!"
More about Topricin:
Topricin® is the culmination of many years of research in the area of regulated natural medicines. The result is a line of pain relief products for the whole family that work with no side effects. Our patented topical formula aids in the healing process by improving blood flow to the injured tissue and draining toxins and fluids that build up as a result of injury or painful ailments like arthritis. Unlike many other over the counter pain relief creams and medications that just mask symptoms, Topricin® stimulates the body's desire to heal the damage that is causing the pain. Whether for muscle pain, joint pain, soft tissue pain or injury, Topricin® is often the first treatment that doctors, chiropractors and physical therapists recommend. An FDA-regulated over the counter medicine, Topricin® is the leading natural therapeutic brand.

Doctor-recommended Topricin® is called "a miracle treatment" by doctors and patients alike. It works because it doesn't just mask the pain. Topricin® uses no volatile oils such as camphor, menthol, or irritating chemicals and can be used as many times a day as needed with no fear of overuse or interference with other medications.

Effective For:

Arthritis
Back pain
Bruises
Bursitis
Fibromyalgia
Minor burns
Sciatica
Scrapes
Sprains
Strains
Tendinitis
Carpal Tunnel Syndrome
Then, just when I thought it couldn't sound any better, I saw that they also had a foot therapy cream:
Podiatrist-recommended Topricin® Foot Therapy Cream is specially formulated to relieve foot and ankle pain. It offers soothing treatment for swelling and soreness and effectively treats dry, cracked skin. Whatever the reason causing you to have aching feet, this fast absorbing, paraben-free formula will get you back on your feet in no time.
Learn more
Effective For:

Achilles Tendinitis
Bruising
Gouty Arthritis
Heel Pain
Impact Injuries
Leg Cramps
Nerve Pain
Neuromas
Overuse
Planar Fasciitis
Sports Injuries
Sprains
Strains
After all of my issues with plantar fasciits and neuromas, I think that this product may have been designed for me.  I have been going to weekly ART (active release technique) sessions for my plantar fasciitis and metatarsalgia and while that does help, adding the foot cream to my regimen can't hurt.  I have been using it a couple of times a day for the past few days & have noticed a difference.  I need to really use it the recommended 3-4 times per day regularly to see where that gets me.
I have also been using the original cream on my low back/glute that has been tight/sore and I have definitely felt better when I use the cream than when I don't.  I read the page about "Why Topricin Works" and was specifically interested in the fact that it doesn't mask the pain symptoms, but it stimulates healing so that the damage that is causing the pain is healed.  Topricin is odorless (thank goodness!), won't stain your clothes, safe for diabetics and kids (there is a kids version).  The ingredients can be viewed here.
Topricin can be found in select stores across the world.  Click here to find the location nearest you.  My mom went in search of some the other day for her back/leg pain and while Publix didn't carry it, the pharmacy was willing to order it in.  If you are having trouble finding it, consider asking your pharmacist to do the same.  It can also be ordered online.  Topricin Pain Relief and Healing Cream is available in a convenient 2-ounce tube (MSRP $16.95) that is just the right size to store in a backpack, gym bag or glove compartment. The product is also available in two larger sizes: 4-ounce jar (MSRP $24.95) and 8-ounce bottle (MSRP $39.95).
Have you tried Topricin before?  If so, what did you think?
***Please get any pain that is severe or lasts longer than a few days evaluated by a doctor.  I feel comfortable treating my aches/injuries this way because I am under the care of a doctor.
****The products reviewed in this post were sent to me free of charge for review purposes.  The opinions in this post are mine and have not been influenced by anyone or anything. 
---
Don't forget to enter the giveaway to win a copy of Elizabeth Barbone's new cookbook: How to Cook Gluten-Free.