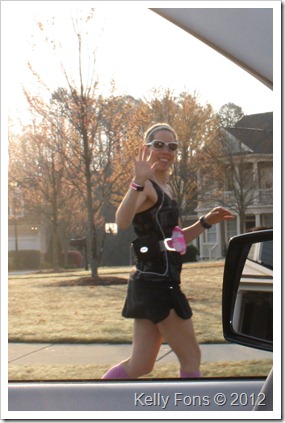 After my tour of the hardest hills I have run in a long time, I had a chance to experiment with some new protein powder.  Lord knows I needed to refuel, STAT!  My step dad, Joe, was in Atlanta as well and he had some SunWarrior brown rice protein that he was kind enough to share.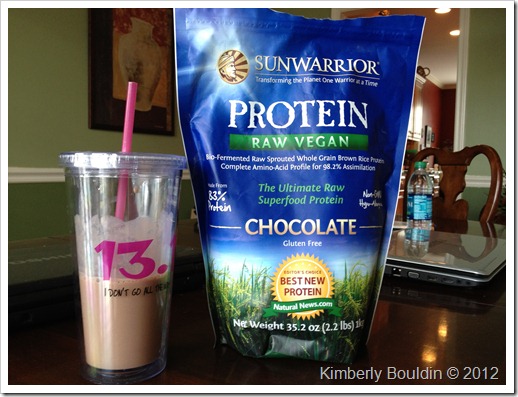 I have tried many protein powders over the past few years, but have never had a chance to try SunWarrior.  As much as I don't feel like eating right after weight lifting or running, I know how important it is.  What I love about this is that 1 scoop = 80 calories, 1 gram fat, 2 grams of fiber & 15 grams of protein.  I added one scoop to 8-10 ounces of unsweetened Silk Pure Almond milk.  What I ended up with was a compact, nutrition filled drink to help me refuel without choking down a bunch of unwanted food.
More Information on Sunwarrior Protein:

Made with 80% protein, Sunwarrior has the Highest (non soy) raw (Not Heated over 90 Degrees) whole grain sprouted vegan protein on the market.
By using a third generation process, we have created the best tasting vegetable protein on the market that has a silky smooth texture that blends well and tastes great compared with other chalky & grainy vegetable proteins.
We use an old world process of combining the sprouted endosperm and the bran from Raw Sprouted Whole Grain Brown Rice. This unique process creates the first complete hypoallergenic Protein which is made up of all 9 essential amino acids and other non-essential amino acids in a perfectly balanced amino acid profile.
Sunwarrior has a 98% Correlation rate to Mothers Milk and a 98.2% digestion efficiency making it one of the highest digestibility and efficiency ratings of any other protein sources (compared to whey and soy).
Highest Net Protein Utilization score of any vegetable based protein and the highest ratio of amino acids converted to proteins.
Sunwarrior is created with a Low Temperature natural Enzyme process that does not use any chemicals or acid hydrolysis (like most proteins do).
Sunwarrior Protein is naturally rich in Vitamins and Minerals and contains high amounts of Antioxidants, Tocopherols, Tocotrienols and other essential nutrients — such as thiamin, riboflavin, niacin, phosphorous, iron and potassium.
Using Sunwarrior Increases the efficacy and absorption of vitamins and minerals. There has been a direct correlation between the use of Sunwarrior Protein and the absorption of vitamins.
Because Sunwarrior Protein is so digestible it can be easily assimilated by infants, the elderly and adults — The World Health Organization may be using Sunwarrior Protein in the future to feed malnourished individuals because of the hypoallergenic profile and superior absorption that Sunwarrior has been shown to have.
There is currently a clinical trial which shows promise that Sunwarrior Protein aids in the absorption of vitamins in Aids patients. There has been a direct correlation between the use of Sunwarrior Protein and the absorption of vitamins in Aids patients where other proteins do not provide such synergistic affects during the intake.
Weight Loss – Clinical studies in Japan have shown that by providing Rice Protein as a staple in a diet it can act as a weight control vehicle. This is especially because of superior absorption rates.
Cholesterol – Clinical studies have shown promise that Sunwarrior has cholesterol lowering potential and the USDA is currently using Sunwarrior in trials to see if it may help control high blood pressure.
Unlike the extraction processes of other proteins, our method of extraction uses neither chemicals nor acid hydrolysis. We only use Organic Enzymes during the process and our process is 100% Organic Compliant.
Are you wondering how the shake tasted?  It was really good.  I thought it would have an odd taste or be chalky, but it wasn't.   It was a little hard to mix in a shaker, so I recommend a blender.  I liked the protein powder so much that I purchased some on Amazon.com.  No excuses for not properly refueling.
The protein powder comes in 3 different varieties – chocolate, vanilla and natural.  SunWarrior also has a new protein blend (Warrior Blend) that uses a combination of proteins: pea protein, cranberry protein & hemp protein.  The powder can be purchased on the SunWarrior website or on other online websites like Amazon.com.