Hopefully you had a chance to read the post my sister shared earlier this week on feeding gluten-free guests.  She sure fed us well while we visited!  The food was so good, that I wanted to share another meal that she cooked for us.  She made a recipe called "Paula Deen's Goulash", but changed some things around & made it her own. 
Here is my plate, just after I dug in.  I realized that I needed to capture how well the pasta held up during the cooking process.  We used Ancient Harvest quinoa pasta.  Many varieties of gluten-free pastas will not hold up to this much cooking, so use caution when purchasing.  I like Ancient Grain or Tinkyada for recipes that call for extended cooking.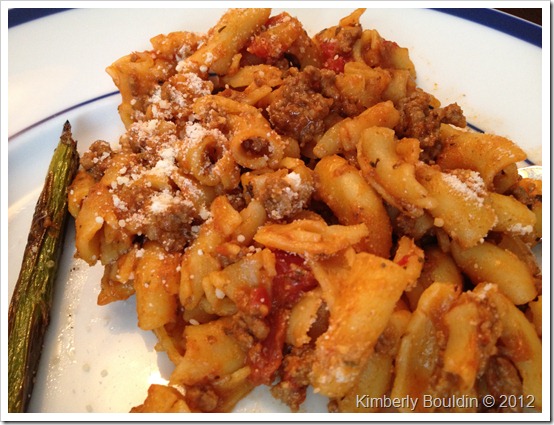 This dish was a hit with everyone (even picky Hannah and Jon!).  What a perfect meal for carb loading, too! 
Gluten Free Goulash
Ingredients:
2 lb. lean ground beef
2 large yellow onions, chopped
3 cloves garlic, minced
3 cups water
28 oz. can tomato sauce (check to ensure that it is gluten-free)
28 oz. can diced tomatoes
2 tbsp. Italian seasoning
3 bay leaves
4 tbsp. brown sugar
Salt and pepper to taste
2 cups Gluten Free Elbow Noodles (I used Ancient Harvest Quinoa Pasta)
Directions:
In a Dutch oven, sauté beef over medium-high heat until no pink remains. Break up the meat while sautéing. Spoon off any grease. Add the onions and garlic to the pot and sauté until they are tender (about 5 minutes). Add 3 cups of water, along with the tomato sauce, diced tomatoes, Italian seasoning, bay leaves, brown sugar, salt and pepper. Stir well. Place a lid on the pot and allow this to cook for 15-20 minutes. Add elbow macaroni and stir well. Return the lid to the pot and simmer for about 30 minutes (add additional water if needed). Turn off heat, remove bay leaves and allow the mixture to sit about 30 minutes before serving.