Spring break is over.  Kids are headed back to school tomorrow.  Time to get back to the routine.  Oh, wait, my routine will no longer be the same.  In addition to writing, I was watching a friend's little boy every day.  They ended up moving, so now I am going to focus on finished up my NASM personal training certification and writing.  What I need to do first, though, is to develop a schedule of some sort so that I can stay on track.  My goal is to take the NASM CPT exam by the end of May (I have until the end of June).  I am about a third of the way through the curriculum right now.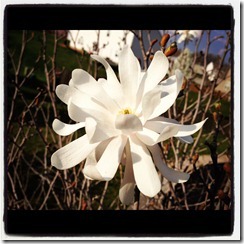 Flower in our backyard – so early!
This first week will be an experiment in what works best for me in terms of study time, writing time, workouts, family & household duties.  I hope to shift my workouts from 5 AM until after I get Hannah to school so that I can hopefully get on a better sleep schedule.  I realize this will take some playing around, hence the "experiment week".  Oh, can't forget, I got called for Jury Duty in April.  Good times.
---
Sunday – Thai peanut salmon, mashed sweet potatoes, steamed broccoli & salad
Monday – Italian chicken breasts, gluten-free pasta, green beans & salad
Tuesday – Taco Tuesday, refried beans, corn & salad
Wednesday – BBQ pulled pork sandwiches, steak fries, sauteed zucchini and salad
Thursday – Leftovers
Friday –Make your own pizza and salad
Saturday – Take out
---
Weekly Recap
If you miss rye bread, please check out this review of Canyon Bakehouse Colorado Caraway.
I glutened a meal that my sister was trying to make gluten-free. 
Udi's debuting new products this summer.
Review: Schar pizza crust – Jon's new favorite!
Participate in this poll on the gluten-free diet: weight loss or gain.
Have a great week!!