I was surprised that the skin of the kumquat is eaten right along with the rest of the fruit.  It looks a lot like the skin of an orange, but it is much thinner and it isn't tough to chew at all.  The skin is actually the sweeter part of the fruit, while the flesh/inside is the more tart part of the fruit.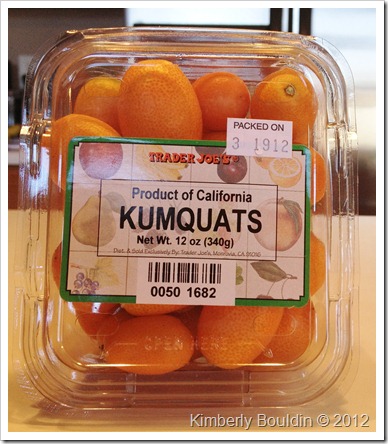 More about kumquats:
Fortunella margarita, also known as the oval kumquat or the Nagami kumquat, is a close relative to Citrus species. It is a small evergreen tree, that can reach more than 12 ft (4 m) high and 9 ft (3 m) large. It is native to southeastern Asia, and more precisely to China. The oval kumquat has very fragrant citrus-like white flowers, and small edible oval orange fruits. The oval kumquat is an ornamental little tree, with showy foliage, flowers and fruits. It is also fairly frost-hardy, and will withstand negative temperatures such as 14 °F (-10 °C), and even a little lower for very brief periods. It can be grown in USDA hardiness zones 9 and warmer, but can also be tried in sheltered places, in USDA hardiness zone 8. Unlike most citrus species, the oval kumquat has a shorter growth period, and goes into dormancy fairly earlier in autumn. This partly explains its better frost hardiness.

Kumquats are often eaten raw. As the rind is sweet and the juicy centre is sour, the raw fruit is usually consumed either whole—to savour the contrast—or only the rind is eaten. The fruit is considered ripe when it reaches a yellowish-orange stage and has just shed the last tint of green.

Culinary uses include candying and kumquat preserves, marmalade, and jelly. Kumquats can also be sliced and added to salads. In recent years kumquats have gained popularity as a garnish for cocktail beverages, including the martini as a replacement for the more familiar olive. A kumquat liqueur mixes the fruit with vodka or other clear spirit. Kumquats are also being used by chefs to create a niche for their desserts and are common in European countries.

Potted kumquat trees at a kumquat liqueur distillery in Corfu.

The Cantonese often preserve kumquats in salt or sugar. A batch of the fruit is buried in dry salt inside a glass jar. Over time, all the juice from the fruit is diffused into the salt. The fruit in the jar becomes shrunken, wrinkled, and dark brown in colour, and the salt combines with the juice to become a dark brown brine.

In the Philippines and Taiwan, kumquats are a popular addition to green tea and black tea, either hot or iced.

In Vietnam, kumquat bonsai trees (round kumquat plant) are used as a decoration for the Tết (Lunar New Year) holiday. Kumquat fruits are also boiled or dried to make a candied snack called mứt quất.

Variants of the kumquat are grown specially in India.

(source)
I don't see myself going as far as to make jelly with the kumquats, but I did enjoy eating a handful of them chilled out of the refrigerator.  Have you ever tried a kumquat?  What did you think?  Do you have a recipe that you use them in?