I was looking for a muffin recipe last weekend so that Jon would have breakfast to grab and go before school this week.  I happened upon Hillson's "A Basic (Not-So-Ordinary) Muffin Formula" in her newest cookbook and got down to work.  The recipe is a basic recipe with variations listed.  I chose to add chocolate chips – Jon's favorite!
This recipe makes 12 muffins (I only got 11, but may have made them a little bigger than I should have).

2 cups Self-Rising Flour* (I used Gluten-Free Bisquick)
1/2 cup granulated sugar
1/4 cup packed light brown sugar
1/2 teaspoon baking soda
2 large eggs or 4 egg whites
5 tablespoons vegetable oil
3/4 cup buttermilk, applesauce or milk or choice (I used whole milk)
2 teaspoons vanilla extract
1/2 cup chocolate chips
Additional granulated sugar for dusting, optional (I left this off)

1.  Preheat oven to 425.  Grease a 12-cup muffin tin or line with muffin papers and spray inside with vegetable spray.

2.  In a mixing bowl, combine the flour, both sugars, and baking soda & blend well.  In a separate bowl, mix the eggs, oil, buttermilk and vanilla.  Add to the dry ingredients and stir with a fork or wooden spoon, just until the dry ingredients are moistened.  Fold in chocolate chips.

3.  Scoop batter into the muffin tins.  Sprinkle the tops with additional sugar, if desired.  Place on middle rack in over and immediately lower the temperature to 375.  Bake 18-20 minutes or until a toothpick inserted in the center comes out almost clean.

*Self-Rising Flour Recipe

1 1/4 cup white rice flour (6.5 ounces)
1 cup sweet white sorghum flour (4 ounces)
3/4 cup amaranth flour (3 ounces)
3/4 cup cornstarch (3.5 ounces) or potato starch (4 ounces)
1/4 cup tapioca starch (1.1 ounce)
2 tablespoons baking powder
2 teaspoons xanthan gum
1 1/2 teaspoons salt

From the book Gluten-Free Makeovers by Beth Hillson.  Excerpted by arrangement with Da Capo Lifelong, a member of the Perseus Books Group.  Copyright © 2011.

**Note that the Self-Rising Flour recipe has baking powder, xanthan gum and salt in it. If you choose to sub a flour mix, please adjust accordingly.  I used Gluten-Free Bisquick, which contains leavening, salt & xanthan gum.
Jon absolutely loved these muffins!  In fact, they are gone (4 days later) and he requested more for the weekend!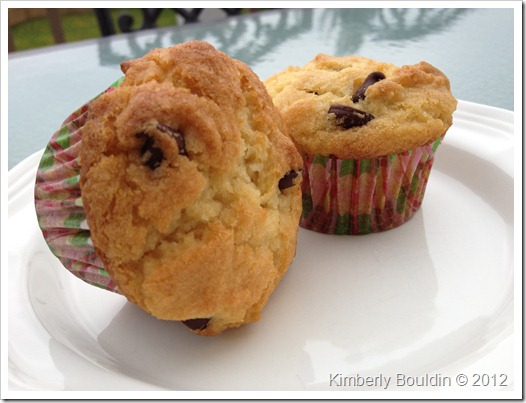 Do you have a favorite gluten-free muffin recipe?  What kind of muffins are your favorite to make and/or eat?
---
Don't forget to head over to The FOGGY Awards and vote for Gluten-Free is Life aka. me!  You can vote once per day until April 30, 2012.  Thank you!!