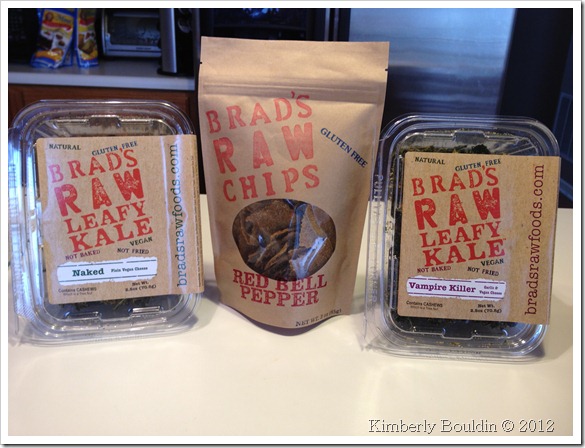 I received three of the Brad's Raw products to review:
Naked leafy kale – INGREDIENTS: Kale, Red Bell Pepper, Cashews, Sunflower Seeds, Lemon Juice, Nutritional Yeast, Himalayan Sea Salt.  I loved these!  I am a huge fan of nutritional yeast, so these made me very happy!  They had a wonderful, delicate texture and light crisp.
Vampire killer leafy kale – INGREDIENTS: Kale, Red Bell Pepper, Cashews, Sunflower Seeds, Lemon Juice, Scallions, Nutritional Yeast, Garlic, Himalayan Sea Salt.  These were very good, but I don't usually eat a lot of garlic, so I am sticking with the "Naked" version as my favorite. 
Brad's raw chips (Red bell pepper) – INGREDIENTS: Carrots, Red Bell Peppers, Flax Seeds, Sprouted Buckwheat Groats*, Scallions, Extra Virgin Olive Oil, Garlic, Himalayan Sea Salt, Paprika, Black Pepper.  Amazing!  I loved how crisp these chips were!  The flavor of the red bell pepper really came through without being overwhelming.
More about Brad's:
Brad's Raw Foods is the home of "The World's Healthiest Chip."

In 2007, founder and creator, Brad Gruno made significant changes in his life and discovered the health benefits of eating raw.  Despite the benefits of the raw diet, one thing he really missed was the crunch of a good snack. In 2008, Brad began making raw chips in his kitchen to satisfy that craving.  Just 2 and a half years later, he's happy to be able to share his snack with others.

Our products are truly the "Healthiest Chips in the World". Dehydrated below 115 degrees to preserve the nutrients and enzymes that aid digestion and keep you energized, you no longer have to feel guilty about indulging in your favorite snack!
In addition to being gluten-free and vegan, Brad's Chips are also:
High in fiber
A good source of Omega-3's
A healthy snack alternative for kids
Rich in vitamins and enzymes
Made out of fresh vegetables
Check out Hoda Kotb's review – "They have changed my life!"
Brad's Chips can be purchased in stores across the US and online.  Have you tried Brad's Chips?  What did you think?  Have you ever tried kale chips?
***The products reviewed in this post were sent to me free of charge for review purposes.  The opinions are mine and have not been influenced by anyone or anything.