I had the opportunity to review some pretty cool snacks recently.  Funky Monkey Snacks (love the name!) are real fruit snacks made using a proprietary freeze-drying process that creates "Fruit that Crunches" while retaining close to all of fruit's natural goodness.  It is no secret that I love fruit, so I couldn't wait to dig in!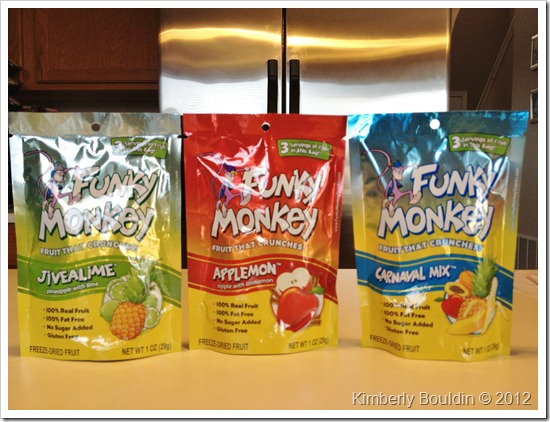 I loved all of the flavors that I sampled, but I think the JiveAlime was my favorite!  I loved the crisp pineapple with the lime!  Here is a list of the whole line of flavor options:
Applemon
Bananamon
Carnaval Mix
JiveALime
MangOJ
Pink Pineapple
Purple Funk
Funky Monkey Snacks are not only gluten-free, but dairy-, peanut- and tree nut-free as well.  I love that they don't have any added sugar or preservatives and they are non-GMO verified.  For those who follow a raw or vegan diet, these snacks are both!  Each 1 ounce serving contains 3 servings of fruit!!  What a fun way to get kids to eat fruit! 
Funky Monkey Snacks can be found in many stores across the US or purchased online.  Have you tried Funky Monkey Snacks?  Which one is your favorite?
***These snacks were sent to me free of charge for review purposes.  The opinions shared here are mine and have not been influenced by anyone or anything. 
---
Today is the last day to enter my Sharkies Giveaway!  You have until midnight EST!