Today I ran my 7th half marathon!  Knowing that I wasn't going to race this race, I offered to pace a friend to reach her goal of finishing under 2:15.  I can't tell you what a rewarding experience this was for me.  This is the second time that I have paced a friend in a race and I enjoy it as much, if not more than racing.  What can be more rewarding then helping someone reach their goal? 
Weather predictions weren't pretty for today.  In fact, there was a heat warning issued on Thursday by the race's medical director.  The goals shifted from setting out a specific minute per mile plan to running based on how we feel, pushing only if we felt able.  Hydrating started on Thursday with Nuun, my preferred hydration solution.  It is very easy on a sensitive tummy.  I drank more water than normal and 1 glass of Nuun per day those 2 days.  I knew it was working because I was tired of going to the bathroom! 
I picked my friend, Melissa, up at 5:15 AM this morning and we headed downtown to the MIT pre-race meet-up.  They took care of our gear, making that one less thing we had to worry about. 
Ready to go!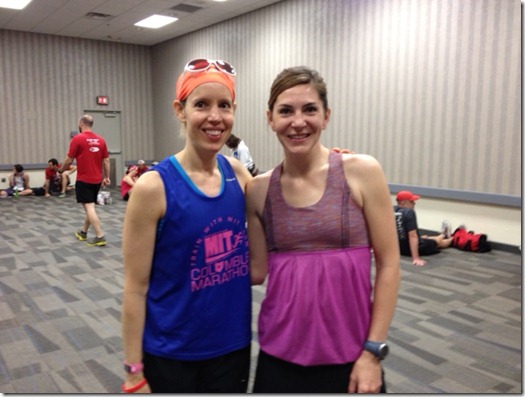 We got to our corrals about 20 minutes before the race started.  It was packed!!!  13,000 people ran this race today!!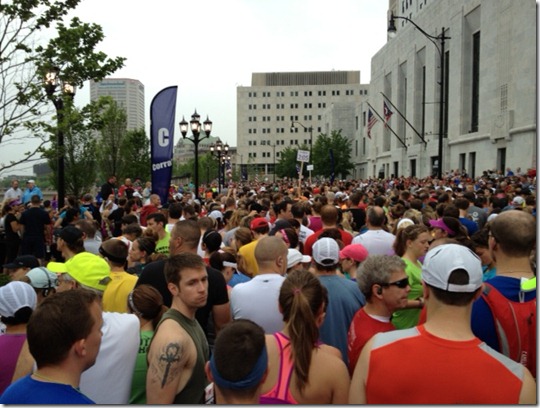 Temperature was 64 and humidity was 93% at the start.  Fortunately the sun didn't peek out from behind the clouds at all during the race.  There really wasn't much of a breeze, but for a few times through the race and right at the finish as we were pushing up a hill.  Figures, right? 
Melissa ran a strong race!  We started with the 2:15 pacer and eventually ended up in front of them.  As we got through miles 6-7, we began to pick up the pace a little.  Our hydration belts were empty at this point and we saw the first of many runners down due to dehydration or heat exhaustion.  We made it a point to stop at each water stop from here on out.   There were a couple of stops where we actually had to wait for water to be poured. 
Once we hit mile 10, we picked up the pace a little more and were running about 9:30/mile.  We were closing in on the end of the race and were getting excited!  After we hit mile 12, Melissa informed me that this was the farthest she had ever run!!!   YAY!!!  She was doing great!!  I told her that I would just follow her lead – run as fast or as slow as felt good and I would be right there. 
She finished   strong and is now part of the half marathon club!! Congrats to you, Melissa!!!! I had a blast helping you reach your goal today – thank you for allowing me to be a part of your day!!! Official time: 2:10:53!!
I quickly refueled on half of a banana and a Perfectly Simple protein bar.  A real meal would come later, but first things first. 
I thoroughly enjoyed every minute of this race!  I can't wait to run my next half in August!!!