Actually, I got a brand new pair of flip flops.  With summer just around the corner and my favorite sandals – Merrell's – just over two years old, I thought it was high time to invest in some flip flops that wouldn't have my sports medicine doctor's hard work on my feet going down the drain.  I wear Superfeet Inserts in my running shoes and it just so happens that they make a flip flop/sandal.  I will admit that when these first came out last year, I didn't bite because they aren't cheap.  However, I like to wear flip flops and one pair of sandals for summer doesn't cut it.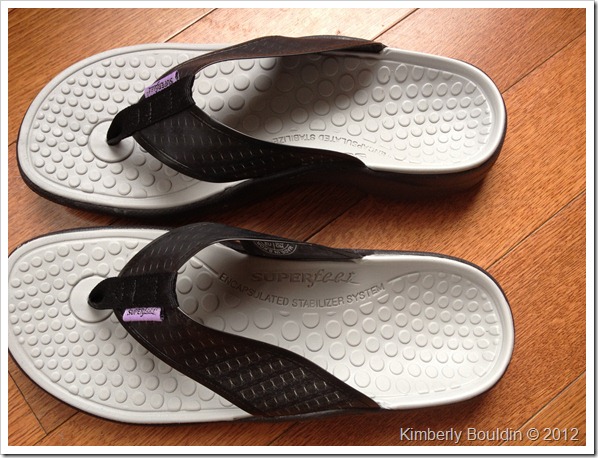 Before I share my thoughts on the flip flops, check out the information from Superfeet below:
Now you can head to the beach or just enjoy summer in your Superfeet! Our new FLP Sandal offers the same comfort and support you expect from your premium insoles. The women's Superfeet FLP is equipped with an authentic built-in orthotic to cradle your natural footstep and provide maximum ground contact, resulting in a confident feeling of balance and control.

Its podiatrist-designed internal core offers proper biomechanical support combined with advanced shock absorption and torsional rigidity. The forefoot flex groove ensures precision gait function and the 4-way stretch strap technology helps hug the foot and reduce hot spots.

30 DAY COMFORT GUARANTEE

You have nothing to lose but your sore feet. If you are not satisfied with your new sandals, return them within 30 days to your place of purchase for a credit or refund.
I am loving my new flip flops!  I do have to get used to the thingy between my toe, as I haven't worn flip flops in a long time, but I love the supportive feeling I get when I slip these on!  My feet feel so free, yet I am not worried about irritating my feet by wearing unsupportive footwear this summer.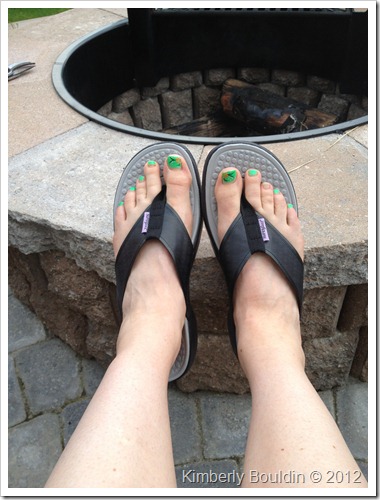 Seems Mama also needs a tan and a pedicure.
I searched the FAQ to see if there was info on plantar fasciitis and breaking in the sandals and found this:
In most cases, our Premium Sandals can help with plantar fasciitis. The Superfeet FLPs have a deep heel cup and incorporate our Encapsulating Stabilizer System [ESS®] with a built-in orthotic to help keep the rear foot close to a neutral position for better bone and muscle alignment. The combination of the integrated orthotic, sophisticated stabilizing and shock absorbing system and our anatomically designed shank in the outsole supports and aligns your foot to take stress off the plantar fascia ligament.

Yes! Just like our Premium Insoles, we recommend you take a conservative approach to wearing your supportive FLP sandals for the first time. The tendons and muscles of your feet may need time to adjust to their properly supported position.
Superfeet FLP Sandals can be found in Columbus at Fleet Feet on Polaris Parkway or online from a number of sources.  They only come in whole sizes.  I wear a 9.5 running shoe and got a women's size 9 Superfeet FLP Sandal.  If black/dusty rose isn't your color, they do come in latte for women and charcoal or espresso for men.   The retail price is $90.00, which is comparable with other higher end supportive footwear, like Merrell sandals.
*****************************************************************************
Don't forget today is the last day to enter my Michelob ULTRA Light Cider Giveaway!