Are you ready for summer?  I know I am!  I am ready to hang by the pool and relax.  What better way to relax than with an ice cold drink?  I think I have just found the perfect drink for summer – Michelob ULTRA Light Cider!  When I was asked if I was interested in reviewing the new cider, I jumped at the opportunity!  I love hard ciders and will often choose them over wine in the summer.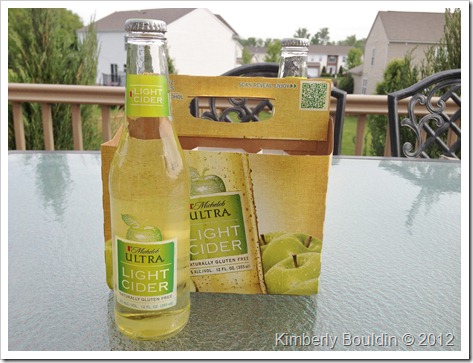 More about the new cider:
ST. LOUIS (May 7, 2012) – Anheuser-Busch's Michelob ULTRA today announced the newest addition to its portfolio, Michelob ULTRA Light Cider, a naturally sweetened and gluten-free cider made from crisp apples. Featuring one-third fewer calories (120) and a more mellowed sweetness than traditional ciders*, Michelob ULTRA Light Cider is ideal for year-round enjoyment and provides adult drinkers a light, refreshing alternative to white wine, champagne and heavier ciders.

"As more people continue to discover cider, we've found that many view traditional ciders as either too heavy, too sweet or both," said Ryan Moore, vice president of premium lights, Anheuser-Busch. "This perception has often times limited ciders to a seasonal beverage during fall and winter, but we saw an untapped potential to expand the category as a year-round option for adult drinkers. Michelob ULTRA Light Cider fills this void with a lower calorie cider with a milder, but distinct, sweetness that can be enjoyed straight or over ice."

Michelob ULTRA Light cider will be available nationwide (excluding CO, UT, WY and OK) beginning May 7, 2012, and will be available in six-packs of 12-ounce clear glass bottles.

Michelob ULTRA Light Cider is the first cider from Anheuser-Busch to be produced and distributed in the U.S., and is produced at Anheuser-Busch's Baldwinsville, New York, brewery. For more information, visit www.MichelobULTRA.com or www.Facebook.com/MichelobULTRA (must be 21 years of age).
To help celebrate the new launch, Michelob ULTRA has generously sent me a complimentary picnic kit and offered to give one away to a lucky reader, too!
To help launch Light Cider, they have put together a picnic (or BBQ, or summer concert) kit of must-have items to turn an outdoor gathering into an ULTRA experience. This kit includes Light Cider samples, snacks, and an array of items from the Crate & Barrel® seasonal collection like a Table In A Bag, picnic blanket, napkins and an insulated tote.
Before I get to the details of the giveaway, I want to share my thoughts on the cider.  I loved this light cider!  I don't know if I can accurately describe how it tastes, but I'll try.  Michelob ULTRA Light Cider was one of the lightest, most flavorful, refreshing drinks I have had in a long time.  It wasn't overly sweet – it seemed to have just the right amount of sweetness blended with crispness.  I drank one with my grilled chicken salad the other night and it was the perfect compliment to the light meal.
The Table in a Bag, blanket, napkins & tote are very cool!  I can't wait to use them all when we head to the beach later this summer!  Now for the fun part!  To enter to win your very own picnic kit, follow the directions below in the Rafflecopter box (you must have javascript enabled to view and enter).
***The picnic kits (the one received by me and given away to a reader) were provided by Michelob ULTRA.  The thoughts shared in this post are mine and have not been influenced in any way.
****Giveaway open to US residents 21 and over only. Light Cider samples will be in the form of a $20 gift card.