I decided earlier this year to study for my personal training certification through the NASM (National Academy of Sports Medicine).  Putting it out there for the world to know made even more pressure for me to work hard and pass the test the first time around.  There was so much information and I had no idea it would be this hard to study.  Part of this may be due to the fact that I have a busy life and am 20 years older than the last time I had to really study for anything.  Additionally, I was pretty much on my own with this course.  I had to be self-disciplined and make sure I was putting in the time to learn what I was required to learn. 
I had 180 days from the time I purchased the course to take the exam.  I scheduled my exam for earlier this morning even though I had until the end of June.  I didn't want to have to worry about trying to study once the kids got out of school for the summer.  I was super-stressed for the past couple of weeks, but I am thrilled to tell you that I PASSED!!!  I can't tell you how relieved I am!!  That was one of the toughest tests I have ever taken in my life.  I felt like I knew the information well, but there was no shortage of trick questions on the exam.  When the proctor told me that I had passed the exam, I pretty much yelled "OH, Thank God!"  I quickly apologized for being loud and he said he gets all kinds of interesting responses once he informs the exam takers of their results.  I can only imagine.  I will receive my official certification in the next few weeks, but he gave me a temporary print out with theses important words "Congratulations!!  You have passed the Certified Personal Trainer examination."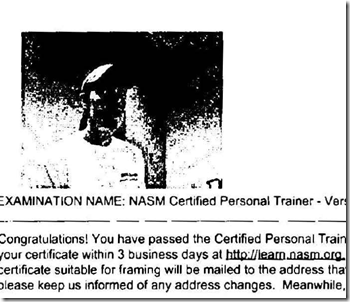 I am excited that I can relax and enjoy the summer with my kids now!!
---
Don't forget today is the last day to enter my
Michelob ULTRA Light Cider Giveaway
!