I wanted to title this post "WTF" but figured that wouldn't be appropriate, so we will stick with "Ramblings". Some of this will be gluten-free, some of it is just me being me. 
I eat Van's gluten-free waffles once or twice a week. On occasion I will notice a variation in size of the waffles, but nothing like I spotted yesterday. The waffle on the left is from the box I was finishing off, the one on the right is from the box I just opened. I thought maybe the size was a fluke, but I pulled out the other five waffles in the box and they are all the same size. What gives? Why are they so much smaller? Does that mean there are less calories in the smaller waffles? LOL!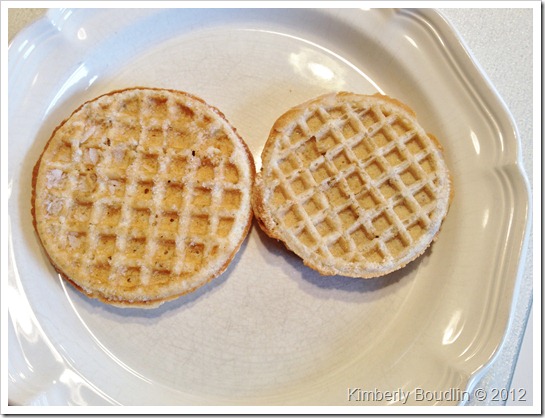 Anyone else notice this with Van's? 
---
Bonefish Grill can't make my food right.  We went out to dinner for Aaron's mother's birthday and I asked for my scallops & shrimp to be prepared with the sauce on the side.  The dish came with the sauce all over the scallops & shrimp.  While I realize this is a small detail there are a couple concerns here.  First, if they are messing up this part of my meal, how can I be so sure that they have gotten the "gluten-free" part right?  Second, this is the third or fourth visit in a row that this has happened.  Is it really that complicated?  When the food is made the way I order it, it is very good, however, I am beginning to wonder if it is worth the hassle.  It is no fun to watch the rest of your party eat while you sit there waiting for your food to be remade.
P.F. Chang's has an app available for your iPhone or Droid!  This new app allows the user to find a location, view the menu, make a reservation or place a take-out order.  How cool is that?  Just download the app to your phone, sign up for "Warrior Rewards" and you will receive a free order of lettuce wraps (which can be made gluten-free)!
---
Now I have to chat about TV show finales for a minute.  I usually DVR my shows and watch them when I stretch or do my PT exercises at night.  I feel like I am multi-tasking and can also FF through the commercials.  It is a win-win in my book!  Anyway, my thoughts on a couple of the finales I have seen so far:
Missing – Bummed it didn't get renewed – it was like a new type of 24, but with a female lead character.  Glad they found Michael, but did they really have to end it with her "Missing"?  Way to leave us hanging forever!  I can think of a couple of other shows that I am still bitter about that were not renewed and left us hanging like this – ahem, Flash Forward comes to mind. 
Scandal – WOW!  I didn't plan on watching this show, but didn't have anything to watch one night when I was stretching, so I turned it on.  I am glad I did!  Really glad that they picked it up for next season.  Wonder what Quinn's story is? 
Make it or Break it – I can't believe that I am admitting that I watched this.  LOL!  The inner teenage gymnast in me loved watching the show for the gymnastics and then, of course, I got caught up in the drama.  Not pleased that the show is over now, but at least they wrapped everything up into a neat package at the end and didn't leave us hanging. 
Grey's Anatomy – Shonda, Shonda, Shonda…what are you doing to us?  Plane crash?  How did I not see that coming?  I do have to say that I went from not liking "McSteamy" to loving him on the show.  I am going to miss Lexie.
Awake – I thought this show had such a unique concept!  I got hooked on the show early on, but once I learned it was cancelled, I cut my losses.  I deleted the last two DVR recordings I had. 
Revenge – My absolute favorite!  I haven't watched it yet, so no spilling the beans!!!
---
Bob's Red Mill is offering free assistance and education in the form of a booklet to foodservice outlets wishing to offer a gluten-free menu.  The booklet is titled "The Foodservice Companion for Gluten Freedom."  Kudos to Bob's Red Mill for all that they do for the gluten-free community. 
Care to add anything to my ramblings? 
PS – I have another fun giveaway going live tomorrow morning, so make sure to check back to enter!!!