Red Robin has always been a restaurant that I know I can depend on to get a decent gluten-free meal.  Last fall they added Udi's gluten-free buns to their menu, making them a great choice to get a great gluten-free burger and fries.  When a couple running friends and I were talking about meeting up for happy hour, Red Robin came up.  Not only do they offer the gluten-free menu, but their happy hour goes until 9:00 PM.  Score!! 
When I arrived I had planned on having a nice, cold glass of chardonnay since it was 100 degrees outside – I kid you not!  When I asked the server what the happy hour specials were and found out that margaritas were only $3.50, I knew I had to order one!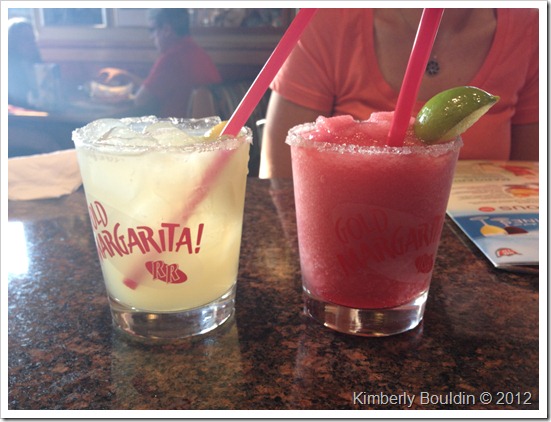 Mine is the original margarita on the rocks on the left; Laurie ordered the frozen raspberry margarita.  I was in heaven!  What a perfect way to cool down on a ridiculously hot day! 
As I began to peruse the gluten-free menu, I noticed that they now offer sweet potato fries!  WHAT?  How long has this been going on?  I knew that even though I love, love, love the Red Robin steak fries, I had to try the sweet potato fries.  I ordered a burger, protein-style, and sweet potato fries for my meal.  I love that they offer gluten-free buns, but really like the burger wrapped in ice-cold iceburg lettuce, especially on a hot day.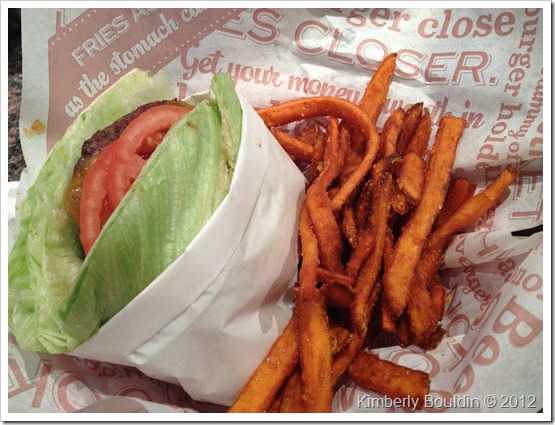 The fries did not disappoint!  The only thing that would make them better was if they were sweet potato steak fries, like the regular Red Robin fries.  Beggars can't be choosers, right?  I am just thrilled to have options!  The sweet potato fries are bottomless, just like the regular fries and don't think for one moment that this group of runners didn't order another basket to share.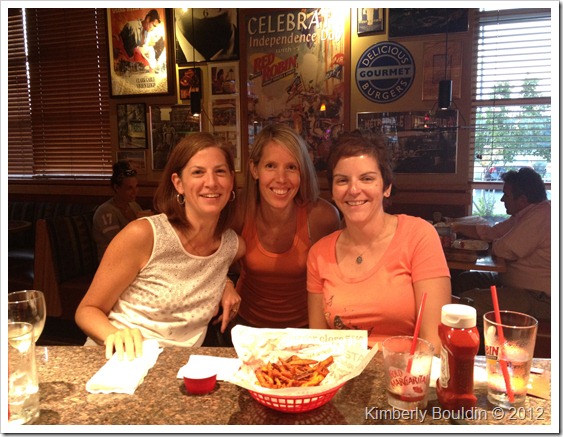 I love that Red Robin updates their allergen menu regularly and dates it.  For example the current menu is dated "7/1/2012 – 7/31/2012".  This is quite reassuring – knowing that the ingredients, suppliers, etc are being checked.  I have come across many restaurants offering gluten-free menus that haven't been updated for months or even years. 
Have you tried the sweet potato fries at Red Robin?  What did you think?