Welcome to the last full week of July!  This upcoming week the weather forecast looks to be a little kinder than some of the previous weeks.  Temperatures in the high 80s and low 90s are much better than upper 90s – low 100s.  There is also some much-needed rain in the forecast!  Hopefully that will help our lawn – I don't think we have mowed since mid-June!
I had a hard time getting up this morning thanks to staying up late watching The Blind Side with Hannah.  I can't believe I had never watched this movie before!  I am trying to wake up and my new favorite coffee is helping!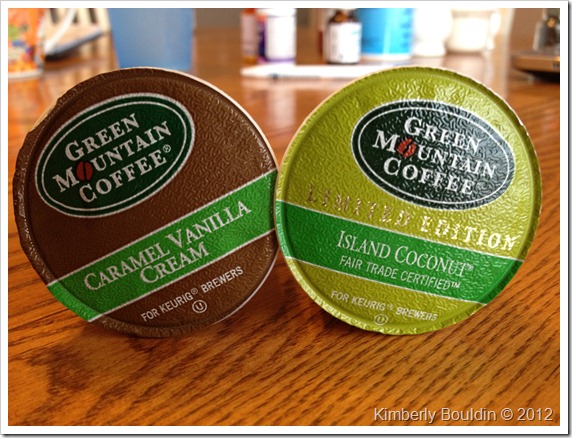 Island Coconut is reason enough to get out of bed!  I hear the Mocha Coconut is also amazing – I see a trip to Kohl's or Bed, Bath & Beyond in my future.  The Caramel Vanilla Cream is also very good, but my heart belong to the Island Coconut. 
---
Sunday –
Chipotle
(long day at the pool with friends = one unmotivated mom)
Monday – Brown rice pasta with marinutta sauce and roasted vegetables, salad
Tuesday – Italian grilled chicken, Simply Potatoes mashed sweet potatoes, steamed broccoli and salad
Wednesday – Mexican pizzas using leftover grilled chicken, corn and salad
Thursday – Sweet Thai chile salmon, coconut baked brown rice, sugar snap peas and salad
Friday – Make your own bagel pizzas and large salad
Saturday – Take-out
---
Week in Review
:
Last day to enter to win the "Summer Simply-fied Giveaway"
Sunny Street Café expands menu adding vegan options
It's restaurant week in Columbus – Spagio offering gluten-free options!
We sampled some products from Mrs. Crimble's
Sign up now for the next NFCA webinar on cross-contamination
Katz adds chocolate frosted donuts to line-up
Review: Allergy Talk by Fooducate – the newest app for those with food allergies/Celiac Disease
Zing Bars adds new flavors to line-up – my thoughts
Confessions of a recovering anorexic
Review: Honey Stinger organic gels