You knew it was coming after the Wordless Wednesday post, right?  How can I not talk about bacon after that?  While bacon doesn't really sound good to me while I am running (not much does), there is nothing wrong with refueling with a little bacon. 
I started to think of the ways that I like to eat bacon.  Of course I like to eat it by itself, but I also like it in the following:
BALT (bacon, avocado, lettuce, tomato) on gluten-free bread or bagel
Topping on salad
Topping on baked potato
On a burger
On chicken breast, topped with cheese and mushrooms – similar to the Alice Springs Chicken at Outback Steakhouse
There are a plethora of gluten-free bacon options.  In fact, I am not sure that I have ever found bacon that did have gluten in it.  If you have found bacon that has gluten, please share!
Some of my favorite brands of bacon include:
Have you heard the newest craze?  Bacon sundaes?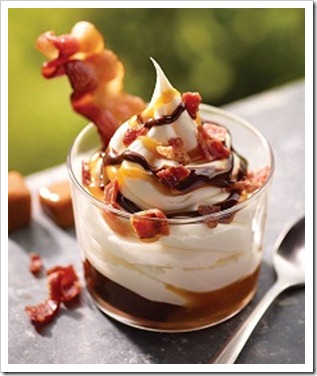 (source)
I just can't get into bacon in a sundae.  But, chocolate and bacon?  That actually sounds pretty darn good!!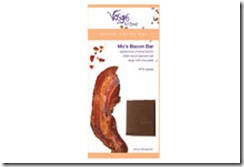 Hannah is a girl after my own heart – she loves her bacon!  Anytime bacon is cooking in our house she comes running into the kitchen. She doesn't need anything else for breakfast – just bacon.
What about you?  Do you like bacon?  What is your favorite way to eat bacon?