By the time you are reading this, I am probably out on my Saturday long run.  Eleven miles on the plan today and I have to admit that I was looking forward to it.  Add that to the list of "You know you are a runner when…" things that non-runners would never say. 
Bee Nut Free makes gluten, dairy and nut free snacks.  There are many people out there that have to avoid more than just gluten, making it difficult to find safe food to eat.  If you only have to avoid gluten, consider yourself lucky.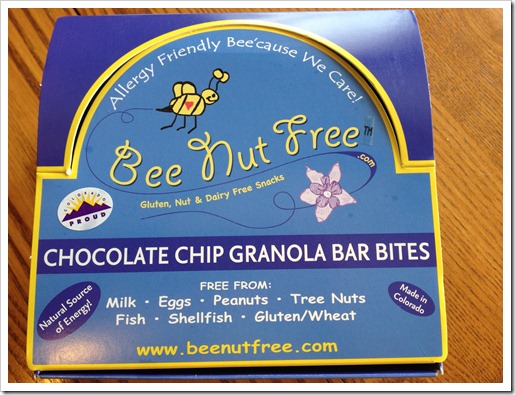 Bee Nut Free has a line of cookies, granola bars and trail mix.  I just love the logo and name of this company!
Located at 9,100 feet in elevation, Bee Nut Free, LLC is based in Summit County, Colorado.  We are in the heart of ski country, USA, surrounded by National Forest and high alpine peaks. We love where we live, we love what we do, we love making the lives of allergy sensitive individuals a little easier.

Inspired by her son's (artist of our logo's bumble bee) positive attitude toward his life threatening nut allergy and a friend's challenges with celiac disease (artist of our logo's columbine), owner Jo-Anne Tyson is fulfilling her dream of providing tasty, nutritious, SAFE snacks to allergy sensitive individuals.  Like many others, Jo-Anne became frustrated with the lack of variety of snack foods available for food sensitive children.  As more and more product labels indicated "made in a plant that manufactures or processes nut products", nutritious, tasty snack foods became less available.  As a mom and a businesswoman who is passionate about her family, community, and customers, Jo-Anne chose to become part of the solution and put her baking talents to work!  

Bee Nut Free, LLC takes great pride in their products.  We require allergy information from each of our suppliers and routinely test our raw ingredients and finished products in order to confidently produce wholesome allergy friendly treats.  Staff respects food allergies.  We understand them because we live with them.  Unlike other food allergy categories with strict guidelines, the U.S. government does not have regulations outlining a nut free facility.  Because of this, we willfully adopted a "No tolerance" policy for nuts and avoid the "Top 8" allergens before and during our shifts in order to maintain the integrity of our facility and our products.

Our ingredients have been carefully chosen to ensure they are not only allergen free but also free of high fructose corn syrup, trans-fat, artificial colors, and artificial flavorings.  Our snack products are so good, folks with or without food allergies are asking for them!

We at Bee Nut Free, LLC want to gain your trust in our product line.  Look for the bee – and be guaranteed your snack item will ALWAYS be peanut, tree nut, gluten, and dairy free (shellfish free too…thank goodness!)  Our family loves our snacks; we hope your family loves them too!
These snacks make a nice dessert after lunch, fuel before a morning workout or afternoon snack. 
Every one of these products impressed me!  They all had great flavor and texture and are made from wholesome ingredients.  Just check out the chunks of fruit in the Ten Mile Tropical bar below: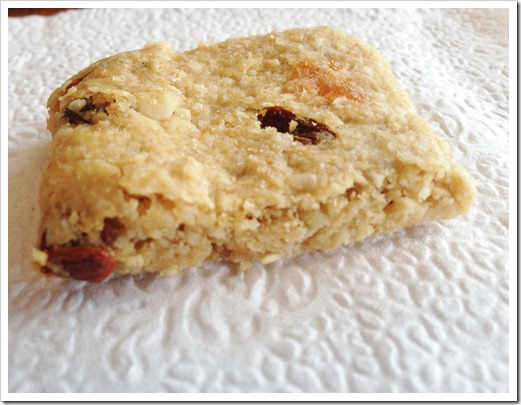 Bee Nut Free snacks can be purchased in some retail locations in Colorado or online.  I would love to see these snacks make it into stores across the US!