I am always on the lookout for gluten-free snacks for Jon and Hannah.  While Hannah isn't currently gluten-free, she eats a lot of gluten-free foods.  Earth Fare puts out coupon books every few months and the current book has a $1.00 off coupon for Froose snacks.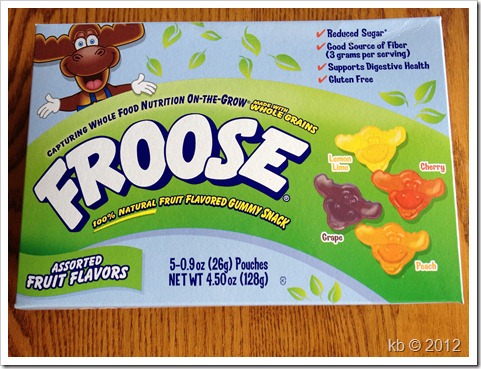 I know you may be thinking that Jon is a little old for snacks like this, but the boy will eat what he likes, regardless of the targeted age.  Heck, I will too – I am not above eating moose shaped snacks. More about Froose gummy snacks:
Capturing Whole Food Nutrition for On-the-Grow

Where can you find whole grains, a good source of fiber, complex carbohydrates and organic ingredients in a 100% natural, gluten free, Grab-and Grow® pouch… Froose® Gummy Snacks – another great tasting and fun product from the Froose® team that brings natural fruity flavors in the form of Milton the Froose® Moose that kids know and love.

Froose® Gummy Snacks uniquely contain whole food and support digestive health yet contain significantly less sugar than alternative gummies. Delivering healthy convenience in right-sized, fun, familiar formats, Froose® Gummies are the ideal snack for the lunchbox, car, or anywhere!

Learn more about how Froose is made and the benefits for your child

Organic Whole Grains & Fruit Juice
Reduced Sugar (25% less)
Good Source of Fiber 3 (Grams)
Supports Digestive Health
Gluten-Free/ Kosher Certified
A healthy gummy snack option for kids
Natural colors & sweeteners
Softer texture – does not stick to teeth
Complex carbohydrate energy – no sugar highs
Kosher Certified
Froose gummy snacks come in three different varieties: assorted fruit, berry blast and tropical blend.  I bought the assorted fruit flavor.  I loved the snacks, especially the fact that they are not overly sweet.  Hannah didn't care for them, but I have a feeling that is because she read the box.  That is her new thing – she won't voice an opinion until she reads the ingredients.  She did the same thing with a frozen box of macaroni and cheese yesterday; she saw there were carrots on the list (and the box said "hidden veggies" and that was all she wrote.)  My guess is she saw "reduced sugar" on the Froose box and that sealed their fate.  Jon, on the other hand, ate them with no complaints = he liked them!  Here is the ingredient list for the assorted fruit flavors:
ASSORTED FRUIT FLAVORS INGREDIENTS* (100% Natural)
Organic Brown Rice Syrup, Beet or Cane Sugar, Water, Fructan (Nutraflora®), Organic Apple Juice (from Concentrate), Maltodextrin, Dextrose, Organic Brown Rice Flour, Pectin, Citric Acid, Sodium Citrate, Natural Flavors (With Other Natural Flavors), Ascorbic Acid (Vitamin C), Natural Color Added
The boxes sell for $3.69 for a box of 5 individual packs at Earth Fare or may be found in these stores.  The snacks may also be purchased on the Froose website, where shipping is free.  Froose also makes juice boxes, which we have not tried yet.  These products would be great for packing in a school lunch or sending in for snack.
Do your kids like fruit snacks?  Do you?  I will often eat a pack before a workout for a quick boost of carb-loaded energy.