Running in the heat and humidity that we have had this summer has definitely taken a toll on my body.  In my quest to stay hydrated this summer, I found and sampled a new-to-me coconut water last week.  Hannah and I took a road trip to Cleveland last week to see my Grandma and I stopped about halfway there for gas, restrooms and to grab a bottle of water.  To be honest, I am sick of plain water, but don't always want the extra sugar of a Gatorade and don't need any additional caffeine from tea or coffee.  As I was browsing the drink selections, I found a Zico Coconut Water.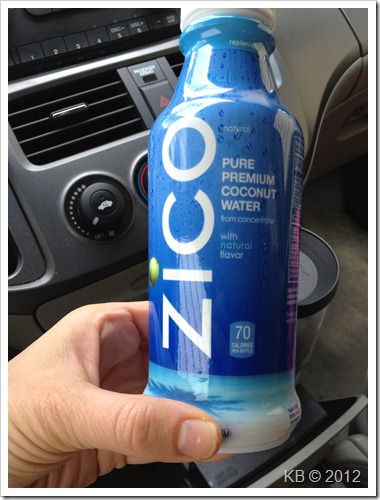 I have tried some other brands of coconut water in the past – one I loved, one I really disliked.  I hadn't heard much about Zico before I bought it, but thought it was high time I try it!  I was a little apprehensive upon taking my first sip, but quickly realized that I had no reason to be.  I loved the flavor of Zico!  I sampled the Natural variety, but Zico comes in several others including:
Chocolate
Pomberry
Mango
Pineapple
Lima citron
Passion fruit
The health benefits of coconut water are pretty impressive.  In addition to being naturally gluten-free, coconut water is an excellent source of electrolytes!  Did you know that coconut water has been used as intravenous fluid?  More about Zico and coconut water:
For more than 4,000 years, coconut water has been revered as a natural source of nutrition, wellness, beauty and hydration. In times of famine and war, coconut water has been used as an intravenous fluid and saved many lives. It's the only natural substance that can be safely injected into the human blood stream. Now modern science has validated its effectiveness, especially as a natural sports drink.

ZICO contains the five electrolytes that support your body with what it needs to stay hydrated and perform at your best. One ZICO has more potassium than a banana – 15 times more than most sports drinks – to prevent cramping. Drink ZICO before or during a workout for the natural energy you need for optimal performance. After a workout, ZICO replenishes and re-hydrates you to aide recovery.
I liked that Zico is not overly sweet.  There is no added sugar or sweeteners, which is always a win in my book.  Zico can be purchased right from the website or can be found in grocery, health food and convenience stores across the US. 
Have you tried Zico?  If not, have you ever tried coconut water? 
---
Don't forget to enter to win my
Rudi's Gluten Free giveaway
!