Who is afraid of heights?  This girl!  Yesterday we went to Kings Island for Aaron's company picnic.  Not only would eating gluten-free be a challenge, but secretly hoping that Hannah and her friend didn't want to go on the crazy roller coasters and rides was another challenge.  Fortunately for me, they stuck to the lower-key rides and only made me go on one coaster and it was a tame one. 
I started my day by browsing the Kings Island website to see what my gluten-free food options would be.  Would I have to smuggle in a sandwich or protein bar?  At first glance I was disappointed because it seemed like my options would be Chik-Fil-A fries, Graeter's ice cream, Dippin' Dots and Starbucks black coffee.  Not ideal, but something is better than nothing, right?  I went back to the main page and click on "What's New" and then "Upgraded Food Options" to find this:
With approximately 3 million Americans with celiac disease, gluten-free pizza will now be available at the Yuengling and Sons Pub inside the Festhaus. Our gluten free pizza is as good as the regular! Be sure to try it during your visit to Kings Island.
I may have gotten up from my desk and danced, but you'll never know!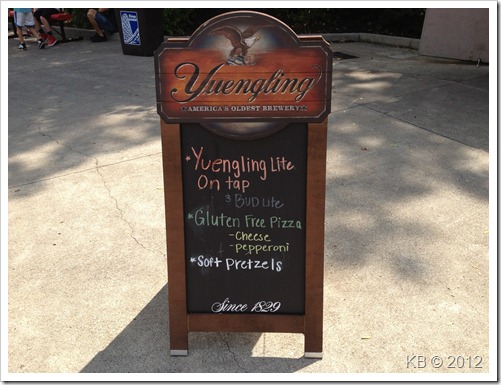 The pizza costs $10.99 and can be ordered right at the Yuengling bar area.  The pizza does take some time to make, so make sure to plan accordingly -I was told 15-20 minutes.  I was shocked to see someone ordering one while I was in there asking about them!  Kings Island does have staff trained on how to handle the pizza safely to minimize the risk of cross-contamination.  I didn't end up ordering any while I was there because the girls were chomping at the bit to get over to the Scrambler and Monster rides. 
On our way out of the park I noticed that there was a wide variety of fruit and healthier choices located at the Coca-Cola Marketplace:
The Coca-Cola Marketplace offers a variety of healthy meal options including fresh house salads, fresh fruits like apples, oranges and watermelon slices, snacks and beverages.
Located in Oktoberfest.
We ended up having great weather, which I would never have believed would happen after the way the day started here, all gray and gloomy.
Have you visited a theme park and safely dined gluten-free or did you sneak your own food in?  There is a Chipotle right outside of Kings Island and don't think for a minute I didn't think about smuggling in a burrito bowl in my purse.  Turns out I would have probably been successful, as they didn't even check my purse!