In my mind, goals are usually set and achieved by my trying to better myself, my race times, etc.  When I really stopped to think about what the word "goal" meant, I decided to see what the dictionary said.
goal [gohl]

noun

1. the result or achievement toward which effort is directed;aim; end.

2. the terminal point in a race.

3. a pole, line, or other marker by which such a point is indicated.

4. an area, basket, cage, or other object or structure toward or into which players of various games attempt to throw,carry, kick, hit, or drive a ball, puck, etc., to score a point or points.

5. the act of throwing, carrying, kicking, driving, etc., a ball or puck into such an area or object.

6. the score made by this act.
Today I am reaching for a different goal for me.  Normally when I run races I aim to complete the race faster than the last race of that distance.  However, my goal for 2012 was to run 5 half marathons bringing my total to 10 half marathons.  In order to accomplish that goal I needed to run 2 half marathons in the spring and 3 half marathons in the fall.  To break that down even further, I chose one of my spring half marathons to run as a training run and one to race; I then chose two of my fall half marathons to run as training runs and one to race. The half marathon that I am running today is one of those fall training runs.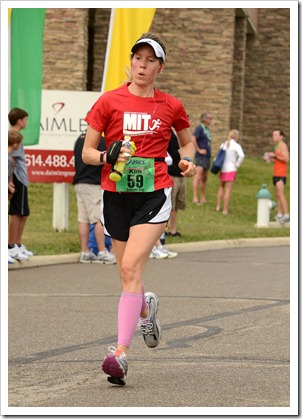 Emerald City Half Marathon 2011
Last year I ran the Emerald City Half Marathon for the first time in 2:06:39.  I am not aiming to beat that time, in fact I will be angry with myself if I do, because that means that I didn't stick to my plan.  My LSD (long slow distance) runs are normally run around a 10:15 pace, sometimes a little faster depending on the distance and weather conditions.  My plan is to run between 10 – 10:15 minute miles coming in at roughly 2:11 or so.  I am planning on running this race with my friend Melissa who I paced to run the Cap City Half Marathon back in May.  The only deviation I can see from the plan I have laid out is up to Melissa – she ran Cap City (her first half) in 2:10:53 and if we are feeling good in the last three miles today, I have no problem with picking that up a little to get her in under her Cap City time.  However, that will mean that we both have to be feeling great and won't be risking putting on training for our goal races on hold. 
Teaching my brain to work differently has been a challenge and probably will continue to be one.  I have to remember that faster is not always better.  I normally don't race with my heart rate monitor, but I plan on wearing it tomorrow to keep me in check.  If there is one training device that I pay attention to, it is the HRM.  If my brain fails me, the numbers on the HRM should remind me to keep myself in line. 
Do you think I can do it?  Tell me no so I can prove you wrong!