You all know by now that I love to gush about products that I love, right?  Well, sit tight, because I have some gushing to do!  I was asked if I was interested in sampling a new gluten-free bread made by Goodbye Gluten Bakeries.  Of course I was interested, though I had never heard of the bread before.  The new bread comes in white and multigrain varieties and is certified gluten-free by the GFCO.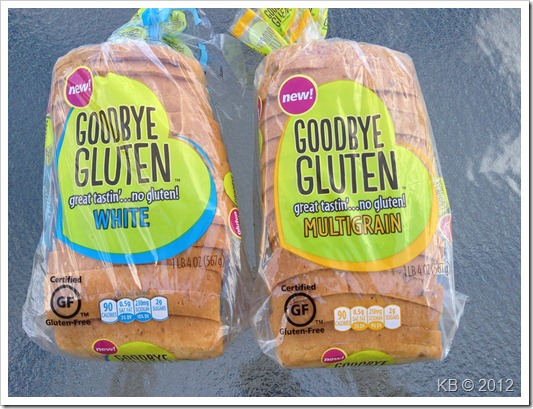 More about Goodbye Gluten Bakeries:
Goodbye Gluten Brand Debuts With New Line of Gluten-Free Breads

Fresh-baked white and multigrain varieties provide long-awaited gluten-free alternative in the bread aisle

Horsham, PA (July 17, 2012) – Most Americans wouldn't consider it an impossible task to find a fresh-baked loaf of bread in their grocery store. But for the millions of people across the country looking for a gluten-free alternative, the bread aisle has been a frustration zone with nary an offering of shelf-stable, fresh-baked options.

The Goodbye Gluten brand today introduced its two inaugural products – Goodbye Gluten White Bread & Goodbye Gluten Multigrain Bread – freshly-baked in certified gluten-free bakeries. The 20 oz. Goodbye Gluten loaves will have a suggested retail price of $5.49 and carry the Gluten-Free Certification seal from the Gluten-Free Certification Organization (www.gfco.org).  The breads will be available in key retailers such as Giant Eagle, Jewel-Osco, Cub Foods, Roundy's, Kowalski's, Lunds & Byerly's, Super One and Hornbachers across the Midwest in the first phase of the Goodbye Glutenbrand launch.

"Millions of Americans across the country are living a gluten-free lifestyle and the numbers are expected to increase as more people decide if gluten-free products are right for them," said Charice Grace, Brand Manager, Goodbye Gluten. "The need to offer gluten-free varieties of a classic pantry staple such as bread is more important than ever, and we are thrilled to offer a freshly-baked, shelf-stable gluten-free bread brand in the bread aisle."

With 90 calories per slice, Goodbye Gluten bread is a nutritious foundation to endless meal solutions –from a myriad of sandwich possibilities, to gluten-free classic peanut butter & jelly, to morning toast with fruit preserves.  For more information on this product and the Goodbye Gluten brand, please visit our website www.GoodbyeGlutenBakeries.com. 
I was a little intrigued by the fact that this bread was meant to be stored on the counter, not the freezer.  I followed the instructions and it remained on the counter the entire time I worked my way through the loaf.  No mold, no deterioration in quality.  It took me roughly one week from start to finish a loaf.  I was thoroughly impressed with this bread!  It was so moist!  There was no need to toast the bread, in fact I loved the taste and texture so much right out of the bag that I never did toast a piece!  This bread held up very well to overstuffed sandwiches and peanut butter and jelly.  Simply awesome!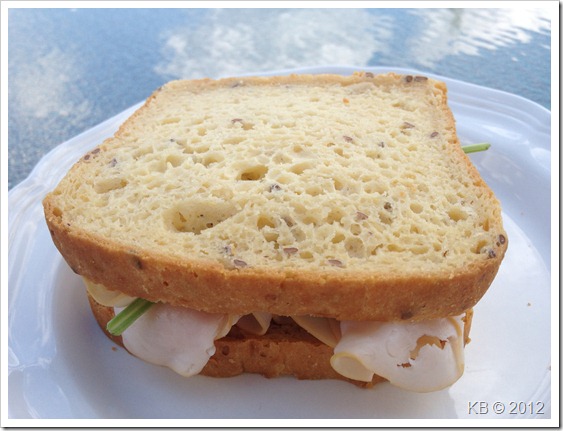 The multigrain with seeds.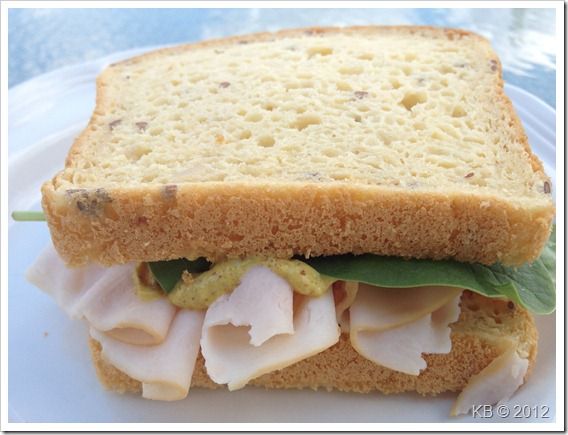 White bread.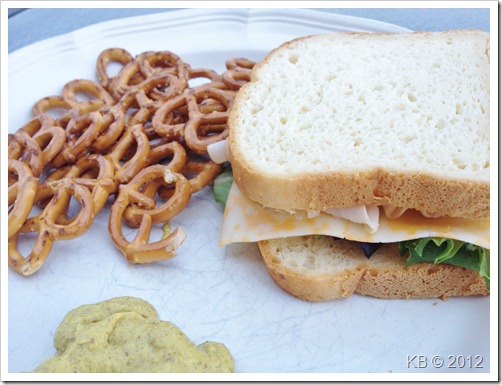 Multigrain: Goodbye Gluten Multigrain satisfies on multiple levels! The earthy goodness of flax and sunflower seeds pairs wonderfully with ingredients such as potato, tapioca, corn and rice, giving each slice a moist, wholesome taste that'll have you coming back for more!

White: Introducing White Bread that's not just gluten-free – it's tasty! Ingredients such as potato, tapioca, corn and rice give each loaf a soft, rich texture and deliver a mouth-watering taste that you'll swear was home-baked!
For more information on the bread and specific ingredients visit the website.  Click here for a coupon for $1.00 off a loaf of Goodbye Gluten bread.
I am thrilled that this bread is available in our local Giant Eagle stores!  I love the ease of making a sandwich and not worrying about how it will hold up if I have to transport it for eating later in the day. 
Have you tried Goodbye Gluten bread?  What did you think?