Some days I need a little more motivation than others.  Today was one of those days.  I was excited that my sports doctor gave me permission to do speed work, even though my resting heart rate has been elevated over the past week.  The humidity has been ridiculous lately, I took a complete rest day yesterday and when the humidity dropped a couple of weeks back, so did my heart rate.  I would not have attempted speed work today had I not spoken with my doctor yesterday when I was in his office getting ART on my foot.
Even though I was excited that I could do the prescribed speed work, I took a look at the weather and knew it was going to be tough – check out the humidity: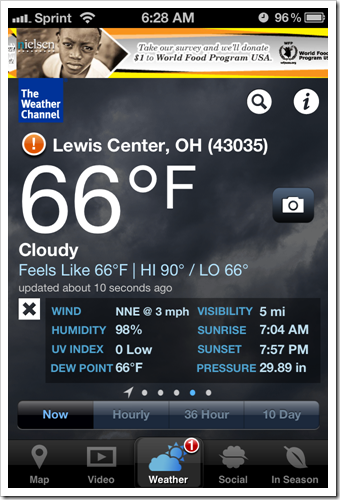 I got dressed, put on my motivating Bondi band and lined up a motivating playlist.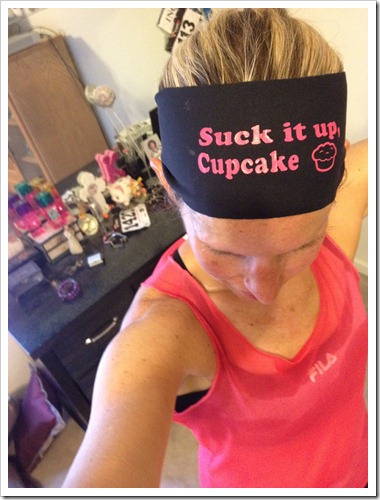 I headed out and set my Garmin to show me current pace, lap pace and distance only.  The prescribed workout was:
Experienced Half Marathoners – 6 x 2000m at Marathon Pace with 1 minute rest between.
I only had 6 miles on my schedule, so I modified the plan to 4 x 2000 at MP with 1 minute rest.  I made sure to do a mile warm up and cool down, so I ended up with 7.25 miles today.  When this happens I usually modify a shorter mileage day.  It is important to do both the warm up and cool down, not skip them.  My target MP (or for me, half marathon pace) is 8:41/mile.  I have a hard time running exactly that pace because I live in an area with rolling hills.  My comfort zone seems to be around 8:25-8:35/mile or so lately, which hopefully means I'll be able to run my goal time of sub-1:50 in the Columbus Half Marathon this fall.
1 – 10:05.3 warm up

2-  08:37.0

3 – 08:31.3

4 – 08:26.6

5 – 08:30.2

6 – 08:27.6

7 – 09:12.7 first .25 miles was still part of the speed work

8 – 02:26.7 last .25 of cool down

My average HR for the run was 161 – Zone 4.  The AVG HR per mile was higher than I would have liked it to be, but given the humidity, I am not surprised.  The key now is properly refueling, hydrating and stretching.  Active recovery tomorrow with a couple of easy miles.
My gluten-free fuel for today:
Pre-run: Organic Honey Stinger – Fruit Punch

Run: Gatorade

Post-Run: So Delicious Almond Plus Vanilla, Meijer Gluten-Free Waffles with Skippy Natural, Blueberries, Peach & Plum
What do you do to motivate yourself?