School is back in session all around the country now and what better way to celebrate on the blog than with a weekly series of Lunch Box Spotlights!  Today I am going to focus on dessert.  Why?  Because it makes me happy!  Enter: Kozy Shack Pudding.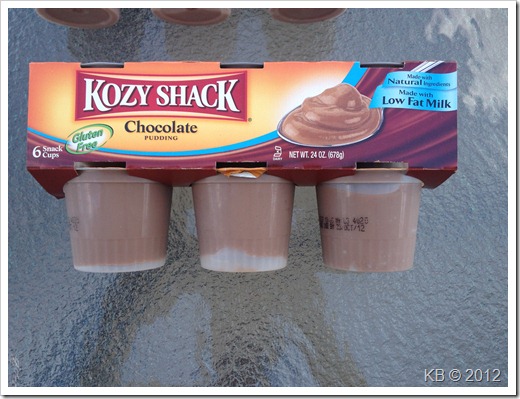 I have been a long-time fan of Kozy Shack Pudding.  When I first began the gluten-free diet in 2006, Kozy Shack clearly labeled their products gluten-free, which wasn't the norm at the time.  Being new to the diet and inexperienced at label reading, I often stuck with products that were easy to identify as gluten-free.  Additionally, I have a special place in my heart for tapioca pudding and I fell in love with Kozy Shack's version.  More about Kozy Shack:
Kozy Shack, Inc. is a family owned company that has been producing quality desserts since 1967. In 1994, we expanded our manufacturing facility and corporate offices by relocating from Mineola, New York, to Hicksville, New York. In 1995, in order to support national sales and distribution, we opened our second manufacturing plant in Turlock, California. In 2000, we experienced international growth and added our third manufacturing facility in Lough Egish, Ireland (60 miles north of Dublin).

We have grown from a neighborhood delicatessen serving homemade rice pudding to a major dessert manufacturer with international distribution. Kozy Shack products are available through popular retail stores: supermarkets, mass merchandisers, club stores and natural food stores. Kozy Shack products are also carried by convenience stores, military commissaries and foodservice distributors.
When Kozy Shack offered to send me samples of their products to review, I was overjoyed!  Not only do I love pudding, but I was interested in trying the new Lactose-Free variety.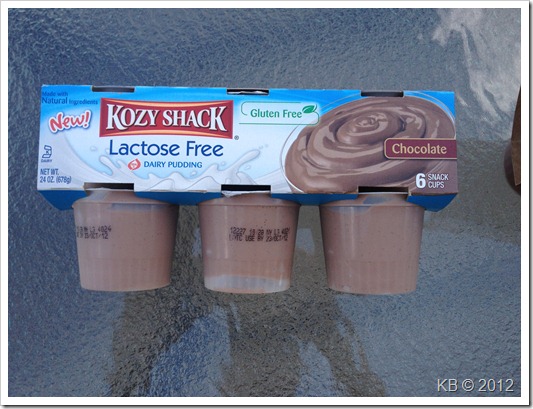 Of course Jon took one look at this and he refused to try it.  I didn't have a problem with that, because that meant more for me!  I tried these side by side, marked on the bottom, not knowing which was which and was not able to tell the difference.  Jon doesn't know what he is missing!  It is important to note that not all of Kozy Shack's products are gluten-free.  The following products are gluten-free:
Rice
Lactose Free
Tapioca
Chocolate
Butterscotch
Banana Cream (Apr – Oct)
Pumpkin (Oct-Dec) <- Can't wait to try this one!
Chocolate Hazelnut
Chocolate Rice
No Sugar Added Puddings
Flans
Gels
The gluten-free products will be clearly labeled, so there should be no confusion.  It seems that the only products that do contain gluten are the bread pudding varieties.  The single-serve portions of Kozy Shack Puddings are perfect for packing in a lunch box.  Kozy Shack products can be found in stores across the US and Canada. 
Have you tried any of the Kozy Shack products?  What is your go-to lunch box snack or dessert?
*These products were sent to me free of charge for review purposes.  The thoughts and opinions shared here are mine and have not been influenced by anyone or anything.