I cannot express how good it feels to be gluten-free in 2012!  Just saying that makes me excited.  Some of you might think I am crazy, and maybe I am, but following the gluten-free diet today is much easier than it was 10+ years ago.  One can argue that if you stick to whole, unprocessed foods it can be relatively easy to follow the diet, and I do believe in that, but it is nice to be able to have readily available substitution foods on the market.  Everything in moderation, right?
I have been a long-time fan of Udi's Gluten Free products and often have my Friday night pizza on their crust.  As I was making my pizza this past Friday night, I noticed the crust looked bigger.  I flipped over the package and noticed the nutritional information/calorie count had changed, reassuring me I wasn't just imagining things.  I also noticed that they have included the words "Thin & Crispy" on the front, which after some online research, I found was not there in the past.  Then I took my pizza out of the oven I put it on a plate to see just how much bigger it was.  See the new picture up top and a picture of the Udi's crust in 2009 below.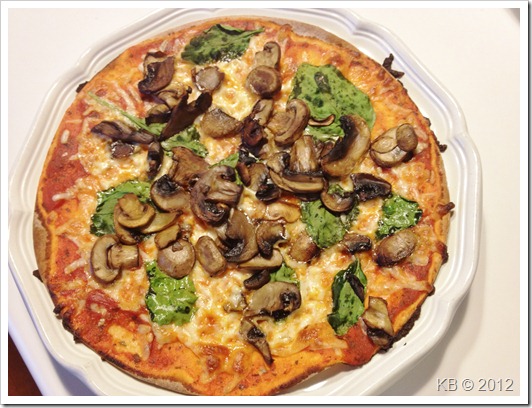 And, in case you were wondering, I ate the whole thing by myself and it was spectacular!
Now, onto the fun stuff!  As I was browsing around the internet looking for information on the pizza crust, I learned of several new Udi's Gluten Free products set to debut in January (baguettes & dinner rolls will be October/November.) 
Udi's Everything Inside & Mighty Bagels – "We know you have been craving a new bagel flavor, so we combined a delicious blend of millet, flax, and poppy seeds, onions, garlic and salt to create our new Everything Inside Bagel—no messy seeds falling off the outside because we put them inside.  The Mighty Bagel has its name for a reason: it's packed with nutrients!  Whole quinoa flour, cranberries, sunflower seeds and pumpkin seeds are a few new ingredients you can find in this bagel, so enjoy the new, power –packed Mighty Bagel."

Udi's Harvest Crunch Muffins & Udi's Double Vanilla Muffins – "There couldn't be a better way to head into fall than with two great new muffin flavors like Harvest Crunch and Double Vanilla?   Paired with warm apple cider or vanilla latte perhaps?  Our mouths are watering already!"

Udi's French Baguettes – "Whether it's a sub sandwich, a panini, or homemade bruschetta, our new French Baguettes are perfect for your homemade creation!  With two baguettes per bag, make a one-on-one feast, or share with the family!"

Udi's Dinner Rolls –"Now we know you have been waiting for these! You may have some gluten free pasta with a side dish, but sometimes you just want a dinner roll!  Thanksgiving will be here before you know it, and in case you have a few "practice runs" before Turkey Day, we thought you might want to practice gluten-free! Besides, who doesn't like a Thanksgiving-style meal every now and then?  But we don't want to limit you – think Italian, or "mini sandwiches", or even paired with a big leafy salad and side soup (dunk away!) Bring on the "bread basket"!"

(source)
I don't know about you, but I need to get my hands on The Mighty Bagel ASAP!
What is your current favorite Udi's Gluten Free product?  Which new product do you look forward to trying the most?