I wanted to make sure that I shared the very easy recipe for the Wordless Wednesday post that went up yesterday.  Sometimes I get busy and forget I shared a yummy looking picture – I promise I don't mean to leave you hanging on purpose.  This meal was one of the easiest to make and it was so good!  Even Hannah ate it with no complaints, though she did end up dipping her chicken in Ranch dressing.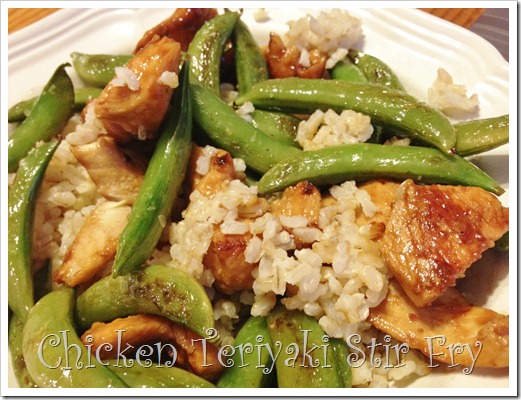 Chicken Teriyaki Stir Fry
1-2 pounds raw, sliced boneless chicken breast or thighs
Cooked brown rice
Sugar snap peas or vegetable of choice
1.  Clean and slice chicken.  Marinate in San-J Teriyaki sauce for at least 30 minutes.*
2.  Heat saute or frying pan over medium to medium-high
3.  Cook chicken in marinade until done. I usually cover the pan for the first 5-7 minutes and then finish uncovered to thicken up the sauce a bit.
4. Serve over brown rice and cooked veggies**.
*Try slicing chicken and marinating the night before or morning of to make dinner faster to make.
**Veggies can be cooked in the same pan once the chicken is almost done or in a separate pan.
All of the San-J sauces are certified gluten-free.  The ingredients for the Teriyaki Sauce are:
Ingredients: Tamari Soy Sauce (Water, Soybeans, Salt, Alcohol), Water, Organic Sugar, Honey, Sake (Water, Rice, Salt), Apple Cider Vinegar, Garlic Puree, Rice Vinegar, Ginger Puree, Plum Juice Concentrate, Torula Yeast, Canola Oil, Spices, Arrowroot, Xanthan Gum

Are San-J gluten free products certified gluten free?
Yes. All San-J Gluten Free products are made in a plant inspected and certified by the Gluten-Free Certification Organization. Look for GF symbol on San-J gluten free products. For more information on this group, please visit their website at www.gfco.org.
While some nights I enjoy ordering take-out for convenience, a recipe like this makes it hard to justify. 
The product used in this recipe was sent to me free of charge to use for recipe purposes.  Be on the lookout over the next couple of weeks for more information and recipes with other San-J products.