Sorry that I have been MIA the past few days.  I had plans to get a fun giveaway from Chapstick up on Friday, but we ended up with a surprise new addition to our family: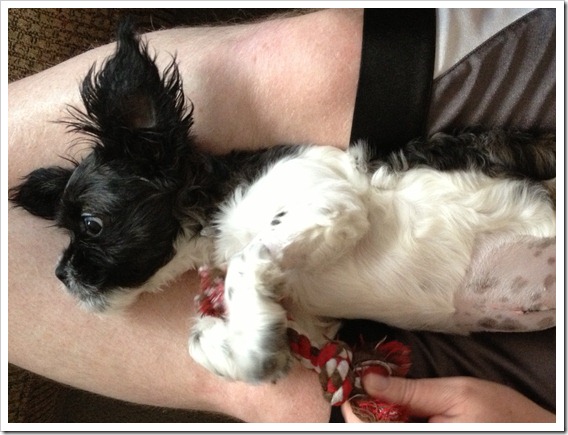 Meet Pippy!  Long story short – Aaron got an email from the humane society about this adorable Shih Tzu puppy and she is now ours!  Needless to say we have been a little busy, as she is only 3 months old.  Now I need to go back and read those reviews I did on gluten-free pet food! 
The theme of my menu this week is simple.  What can I do to avoid take-out and still prepare some healthy meals?  Plan and prepare as much as I can in advance. 
Sunday – Beef tacos with corn tortillas, chopped ice burg lettuce tomatoes and avocado, refried beans and corn

Monday – Spicy Thai Peanut Salmon, coconut baked brown rice, steamed green beans and salad

Tuesday – Italian grilled chicken with fettucine Alfredo, broccoli and salad

Wednesday – Breakfast for dinner (Belgian waffles) with fruit salad and turkey bacon

Thursday – Burgers, sweet potato puffs, zucchini and salad

Friday – Make your own pizza and salad

Saturday – Wiener Roast at Aaron's parents
Week in Review:
Better 4U Foods gluten-free pizza review
The Everything Gluten-Free Slow Cooker Cookbook
Glutenfreeda adds new products to line-up
Check back tomorrow afternoon for the start of the Chapstick giveaway!