One of the first things I worried about when I started the gluten-free diet was my beloved Thanksgiving Day stuffing.  Some people call it dressing, whatever, I call it delicious!  I have tried many different bread options for the dish – gluten-free bread, gluten-free cornbread and most recently Canyon Bakehouse gluten-free bread.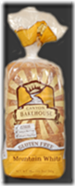 Canyon Bakehouse asked me to try their stuffing recipe out with a loaf of their Mountain White bread.  The Rosemary Focaccia bread can be used in its place for a fun, flavorful twist on stuffing.
Canyon Bakehouse Rosemary and Thyme Focaccia Stuffing

Ingredients

1 Loaf of Canyon Bakehouse Focaccia <—

I used Mountain White

6 Tablespoons butter, more for baking dish
8 oz pancetta or bacon <—

I used sausage

1 large onion <—

I omitted

2 carrots
2 celery stalks
1 pound mushrooms
3 garlic cloves
2/3 cup freshly grated parmesan cheese
2 eggs
¼ cup fresh chopped parsley
1 ½ cups chicken broth
Salt and Pepper to taste

Preheat oven to 400 degrees to toast the focaccia. Once the focaccia is toasted then preheat the oven to 350 degrees to bake the stuffing. Butter a shallow baking dish, a 15x10x2 baking dish works well. Cut the focaccia into cubes and bake on a baking sheet at 400 degrees until golden brown or for approx 15-20 minutes to toast. Cool the focaccia cubes before using. Chop the onion, carrots, celery, mushrooms, garlic and parsley. Melt 2 Tablespoons of butter in a large skillet over medium heat. Add the pancetta and sauté until crisp about 10 minutes. Remove pancetta and place on a dish lined with a paper towel. Add the remaining butter to same pan over medium heat and add the onions, carrots, celery, garlic and mushrooms. Season to taste with salt and pepper. Saute until tender about 12 minutes. In a large bowl add the sautéed vegetables, parmesan cheese and focaccia cubes. Add the chicken broth to moisten. Beat 2 eggs and add the eggs and pancetta. Season with salt and pepper to taste and add the parsley. Mix well to combine all the ingredients. Transfer the stuffing to the baking dish. Bake at 350 degrees for approx 40 minutes or until the stuffing is golden brown.
Love the addition of parmesan cheese to stuffing!  I have never thought about using it in stuffing, but it really adds a unique flavor.  I can't wait to try this out with the focaccia bread!  Canyon Bakehouse products can be purchased in select stores across the US or online.
If cornbread stuffing is more your speed, make sure to give this recipe a try.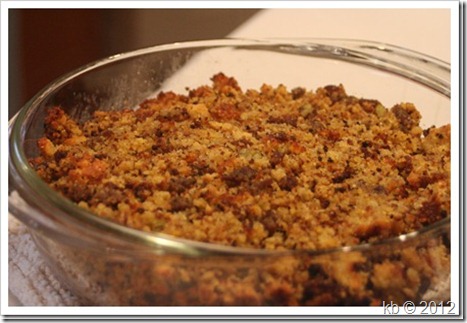 Cornbread Stuffing with Sausage – ingredients

2 batches of cornbread
1 roll of sausage (check to make sure it is GF)
2 sticks of butter
Chopped celery
Chopped onion (I omit b/c I can't eat onions)
Salt
Pepper
Poultry Seasoning
Broth – turkey or chicken

I am going to go through the entire method below.  From baking the cornbread to making the sausage and combining it all together.  Also, I make the cornbread a few days in advance.  You can leave it partially uncovered to help dry it out.

Cornbread

**From the back of the Quaker Yellow Corn Meal Box

***Double this for the stuffing

1 ¼ cups Pamela's Baking Mix
¾ cup cornmeal (Used Bob's Red Mill Stone Ground Cornmeal)
¼ cup sugar (1/8 cup for stuffing cornbread)
2 tsp baking powder
½ tsp salt (I omitted this b/c there is salt in Pamela's baking mix)
1 cup buttermilk (the box says to use skim, I like buttermilk in my cornbread)
¼ cup vegetable oil (I use canola)
2 egg whites or 1 egg beaten (I used the beaten egg.

Heat oven to 400. Pam 8 or 9 inch baking pan. Combine dry ingredients. Stir in milk, oil and egg, mixing just until dry ingredients are moistened. Pour into pan. Bake 20 to 25 minutes or until golden brown and toothpick comes out clean. (I did 20 minutes).

The day of preparation

Crumble the cornbread onto cookie sheets in a single layer & place in oven at 250 – 300 degrees and check frequently until it gets dried out, but not burnt.  While you are doing this, you can prepare the sausage (I used Tennesee Pride Mild).
What is your favorite recipe for stuffing/dressing?  Do you use gluten-free bread, cornbread or rice?
*Disclosure: Canyon Bakehouse provided the bread for me to use in the top recipe.  The thoughts and opinions shared here are my own.