Welcome to the last full week of October! If you haven't already done so, please make sure to enter to win the EVOL Foods giveaway – it ends in 2 days!! Yesterday I ran in the Nationwide Columbus Half Marathon and had a blast. I will have a race recap up soon, but must tell you that I have found the best way to gain crowd support during a race – wear a tutu: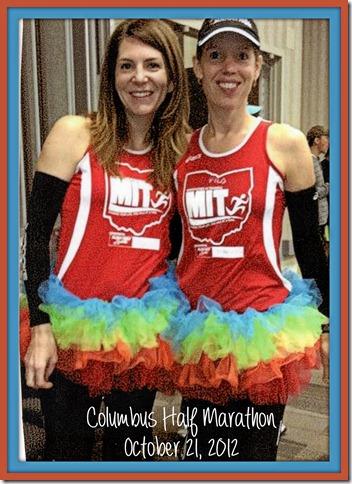 This week's menu plan will hopefully be followed a little better than the past few weeks. It has really be a struggle lately, so I am pledging here, in cyberspace, to stick to my plan this week. Any one else struggle with this? I know half of the battle is planning, but I need to follow through.
Monday – Leftover mac & cheese with tuna and salad
Tuesday – Mexican pizzas with black beans and corn, salad
Wednesday – Bourbon chicken, coconut baked brown rice, broccoli and salad
Thursday – Bison or turkey burgers, steak fries and salad
Friday – Make your own pizza and salad
Saturday – Take out
What did you do this past weekend?  Do you meal plan?  If so, how do you stick to it?