BRR!  It was 80+ degrees on Thursday and it is very chilly and windy here in Ohio.  While we aren't in the direct path of Sandy, we are definitely feeling some of the effects.  Halloween may be very cold and possibly snowy.  If you are anywhere in the path of this nasty storm, please stay safe!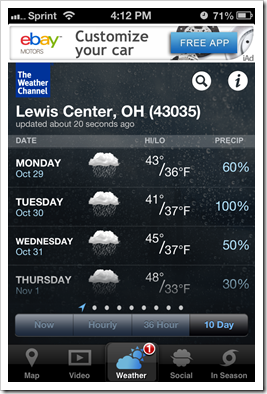 That won't stop Hannah, though, she is all ready in her "Candy Corn Spellcaster" costume.  She has been asking to wear this since the day we bought it 2 weeks ago.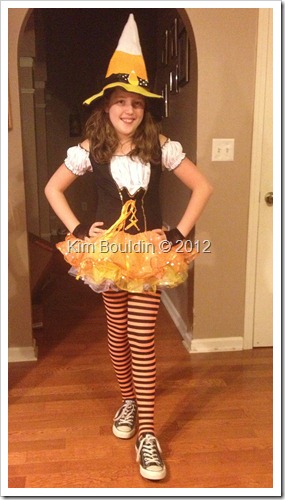 ---
Sunday – Teriyaki chicken, brown rice and asparagus
Monday – Chicken fettuccine Alfredo with broccoli and salad
Tuesday – Easy Enchilada Bake, corn and salad
Wednesday – Trick or Treat = Pei Wei Take-Out
Thursday – BBQ pulled pork sandwiches, baked beans and salad
Friday – Make your own pizza and salad
Saturday – Dinner out – Anniversary
---
Week in Review:
Gluten-Free "Holiday How-Tos" Webinar
Glutino Gluten-Free Snack Attack
Fat Toad Farm Goat's Milk Caramel – Salted Bourbon is out of this world!
Review: Annie's Deluxe Mac & Cheese
Have a great week!!